Do you manage any business or organization? Do you want to learn effective management skills? Do you have a question in mind, how to be a better manager?
Then, it would be best if you focused on self-development to improve your management efficiency to be a great leader.
As a manager, you must be strong, confident, and effective to manage people and lead your team successfully. It takes more than just managing people to be a better manager.  Being a good manager also involves knowing your limitations and knowing how to organize yourself to deal with your employees.
Employees pressured to meet unrealistic goals may become dissatisfied and even aggressive, whereas those given too much flexibility may acquire bad habits and eventually get bored. There is no one-size-fits-all management plan because each individual and firm has a unique perspective.
If you want to be a better manager, you must learn the qualities of a manager, areas to improve, and effective ways to manage people. You must also think of yourself as a good leader rather than a rigid boss. You should be able to create a highly positive atmosphere.
Most significantly, being a boss is about becoming who you are rather than what you do. You'll discover that when you understand these things, you'll get more done, and your managers will get better work.
How To Be A Better Manager
The term "manager" has been used to cover a wide range of functions and duties, and that is the truth. On the other hand, a good manager does not have a single definition. Personal qualities like empathy, creativity, and communication are just as important as organizational efficiency and production for a manager's abilities.
To become a better manager, a good leader should constantly try to enhance their talents. Managing people or managing a team so effectively necessitates the ability to relate to various personalities and strong leadership abilities.
Managers must also be well-versed in labor laws, training, and staff motivating tactics to be effective. Here are the 10 Rules for Effectively Managing People:
How To Be A Better Manager?  10 Most Effective Ways To Being A Good Manager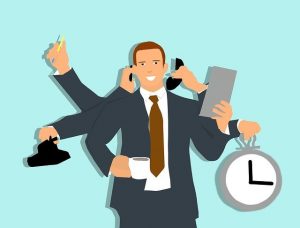 Here are the 10 tips to be a good manager and effectively manage people:
1. Be aware to deal with common issues
To be a better manager,  you need to develop first personal and professional balancing skills.
Before being a good manager, you must possess emotional intelligence and self-awareness. If you are not self-aware and lack emotional intelligence, you may be unable to deal with common workplace issues. Being aware of what you are doing, how you are doing it, and why you do it will help you become a better manager in the long run.
2. Identify your strength and weakness
To be a better manager, one has to be aware of their strengths and weaknesses. If you know your strengths and weaknesses as a manager, you can improve your work. The vast majority of managers are oblivious to their strengths and weaknesses. Finding out if you're up to the task requires assessing your strengths and shortcomings.
To be a successful manager, one must be aware of one's strengths and limitations, and one's abilities. Ultimately, they determine how well managers work and how much stress they can endure.
3. Set the goal of working as a team
If you want to be a good manager, you should create a goal to work as a team. If you want to know where you stand, you must take the time to do some practice.
Delegating responsibility while avoiding blame-shifting is a difficult skill for managers to master. Instead of doing everything themselves, managers need to assign duties to others so that they don't become overworked, upset, and frustrated.
4. Remain as transparent as possible
Good Managers should be open and honest with their staff to show them that they care about them. Likewise, employees should know where they're going and what they'll do next if they're going away.
The best way for managers to instill a sense of purpose and accountability among their workforce is to be open and honest about their objectives.
Working under conditions that one finds intolerable is a common reason people leave their jobs. They expect to be well taken care of. The company's opportunity and its requirements must be clear to all of your employees.
5. Encourage and reward your talented team members
A good manager has a solid understanding of human behavior and can get the most out of others. Effective Management requires that you maximize the potential of your team members. In particular, those who are very talented and creative. Therefore, to improve the productivity of a company many companies hire a better manager.
You must collaborate with them and be honest about your mistakes to do it effectively.
Whenever you can, promote from within the company to ensure that your most valuable assets stay on board and aren't lost to competition.
Motivating your team members is extremely vital. You may encourage your team members by offering them projects relevant to their abilities and interests.
6. Treat your employees as individuals
A good manager treats each of their employees as an individual. People should be encouraged to reach their full potential and given the tools they need to do their best work and treat their weaknesses as strengths.
Your approach should be based on what your employees can do, like, and where they want to improve. To become a better manager, you must pay attention to each employee and tailor your approach to their personal needs.
7. Set the goal of working as a team
As a manager, you need to know how to set goals for your team. However, a manager's job isn't just about making decisions and setting goals. As a manager, you talk to your employees and give them positive feedback, and it can help you lead you in your work, which will help your company do better at work.
A good manager can be both person-centered and team-centered at the same time. Keep your team members happy and kind to each other at all times.
8. Keep Consistency
Good communication is needed for good management. Communication should be clear because uncertainty leads to misunderstood ideas. If you tell your employees something that isn't true, you should also be careful not to.
People who are "smart" need to know everything that's going on with a project to run it well. In turn, they should be able to change their strategy while working on the project so that it meets the needs and risks of different people.
9. Set the goal of working as a team
You should establish team-oriented objectives to assist your employees in building better relationships. Setting goals on an individual or organizational level deprives team members of the opportunity to get to know one another. Establishing team-oriented activities enables them to motivate one another toward a common objective.
10. Communicate clearly and accurately
Effective management requires excellent communication skills. Because ambiguity leads to confusion, you should be unambiguous in your communication. When talking with your staff, you must also avoid giving them incorrect information. In the workplace, all forms of communication are important.
A warm and approachable manager will encourage your employees to open up about their concerns. Consequently, you'll be better equipped to deal with any colleagues' issues at work.
5 Books on being a good manager which every manager should read to be a better manager
There are a lot of good resources to help you improve your management skills and to become a better manager. Among the most useful books are those written by an expert who has studied how to be a good manager. They have written about some of the best managers and how they used to get things done. In addition, books based on facts and science can help you become a better leader and manager right away:
In a study, Google discovered 8 behaviors that are common among their highest performing managers and incorporated them into their manager development programs. Learn more about the 10 Oxygen behaviors of Google's best managers. 
Read Also: 
Why is leadership development important for every successful manager?
Why is leadership development important for every successful manager?
The Bottom Line
Being a good manager isn't about doing something special and magically becoming yourself overnight. It is a process where you have to work on yourself little by little to improve yourself. First, try to find out your weaknesses and then turn them into your strengths.
Be friendly to everyone but follow the leadership, remember you can do a lot of things with good manners that you can't do with rudeness or you won't be able to get the right job done. However, if you're still confused about where to start, follow the tips to be a good manager and start applying them yourself.