Celebrated with her complex personality, realistic conflicts, and sensual depictions of love, Paulette Golden writes a historic romance for intellectuals. Set primarily in England during the George Dynasty, her novel challenges the norms of this genre by starring characters that are loved for their flaws, flaws and peculiarities. Her actions explore the human spirit, mental and physical trauma, and personal beliefs. Their story shows how love overcomes adversity. Whatever our self-doubt, love comes out.
Here is an interview with author Paullett Golden
Can you tell us a little bit about yourself?
I'm a university professor turned historical romance novelist. While becoming a novelist had always been a dream, it didn't become a reality until my battle with ovarian cancer. Writing gave me a new will to fight for life. The whole of my lifestyle has changed now, with my focus being on writing for pleasure, researching for knowledge, powerlifting for health, and gardening for peace of mind. I write primarily Georgian romances, both sweet and steamy, best loved by intellectual audiences.
How many hours a day do you write?
I'm tapping away anywhere between 2 hours to 12 hours. My days are devoted to writing, but how many hours depends on the day's tasks. For instance, some days I might participate in buddy fitness wherein we hit the trail with bicycles, running shoes, and sandbags, leaving only a few hours in the day to write. Other days I might be knee deep in the dirt of my garden with the evening devoted to writing. Yet still other days I'm writing within the first few minutes of waking and don't stop until it's time for the evening's sleep. A day doesn't go by that I'm not at least jotting down notes for my next writing session.
How many unpublished and half-finished books do you have?
It's rare I sit down to write a novel then leave it unfinished. What I have, however, is a great many sketched plots waiting to be written. As many writers will attest, ideas flow at the most inconvenient of times, namely when you're working on another project. If a different plot pesters while I'm writing another book, I'll take the time to sketch out the ideas so I don't forget them, and then I can return undisturbed to writing the book I was originally working on, leaving the new plan ready to explore, already plotted, but not yet started. I have enough sketched plot ideas to last me a lifetime and beyond!
How long on average does it take you to write a book?
How long it takes to write a book entirely depends on how much time per day I devote to writing. With a well-plotted and pre-researched book that needs only for me to sit and write, I can accomplish this within about two weeks from start to finish. With a book that's only been plotted but not fully researched, I can spend weeks falling down the rabbit hole of research without writing a single scene, thus taking several months to write from start to finish. Now, something to consider is that the "writing" is only the first draft, not including the myriad of revisions, proofreading, editing or even preparations for publishing.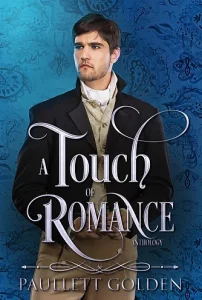 Where did you get the idea for your most recent book, A Touch of Romance?
My most recent publication, A Touch of Romance, features a multicultural cast of characters with the hero being British, the heroine being Indian, and the hero's competition being Persian. The idea came from researching cultural and ethnic diversity in the 18th century. With the growth of the East India Company and England's imperialization, we should be seeing in Georgian era romances a stronger presence of characters with Indian heritage. Inspired by my research, I chose to feature an Indian heroine.
How did you develop your plots?
I'm a curious combination of plotter and panster in that I always plot my novels from start to finish, denoting the events of each chapter, the individual scenes within, and the full story arc. Once I start writing, however, the characters drive the direction of the plot, so much of what I've plotted tends to be replaced, never again to see the light of day. All my novels, thus far, had vastly different story arcs during their composition than they have now.
How do you select the names of your characters?
I'm a name thief, I confess. I steal the names of friends, family, road signs, cities, and so forth. I don't choose unwisely, however, as I do research name etymology and family history to ensure I'm not using a name of an existing or historical peer or using a name that wouldn't have appeared until, say, the Victorian era or beyond. Even names of other cultures can be tricky, for if a name originates from a culture of people who would not have realistically or historically done dealings in England or with the English, I shy away from using the names.
Have you read anything that made you think differently about fiction?
Everything I read influences my perceptions of people, culture, history, actions, decisions, etc. When I develop characters, I rely a great deal on psychology, as well as aspects of archetypes, astrology, religion, love languages, personality types, philosophy, and so much more. Even events or historic accounts of events influence how I think about fiction because while I may be writing a linear and static work, life is anything but linear and static. The characters are dynamic and multidimensional. Their influence on the world causes chain reactions. The world influences in them in turn, altering their motivations and goals. I rarely believe in villains, for instance, and especially abhor the moustache twirling and pistol holding villain who kidnaps characters to give a lengthy and evil monologue. The so-called villain isn't a villain in his or her own mind nor would those who follow that person think of them as a villain with a wicked masterplan. I love exploring the dynamics of what influences people's choices and how those choices affect others, not to mention how those choices then change the perception of the person.
What are you currently working on?
My next project will be the first book in a new series, one that has been a long time waiting. The Sirens series was originally intended to run alongside that of The Enchantresses, but I put it on hold to focus not only on The Enchantresses but also on a different series, Romantic Encounters. The pandemic began right around the time I was going to publish the first book of The Sirens, so I changed direction and went with the first book of Romantic Encounters instead, which is A Dash of Romance. The goal was to deliver a romantic comedy that would lighten our moods during dark times. While all the world was afire, how lovely to dip into the cool waters of a lighthearted romance. At last, I'm circling back to The Sirens to finish and publish the first book of the series, A Counterfeit Wife.
Do you read your book reviews? How do you deal with bad or good ones?
I love book reviews! I read them all, the good, the bad, and the ugly. I learn from all of them, namely what I'm doing well and what I need to improve. The most telling reviews are the ones that repeat comments, such as what readers enjoyed the most being repeated across several reviews, or conversely what readers disliked the most being repeated across several reviews. If, for instance, readers enjoy witty banter but dislike internal dialogue, then that tells me I should strengthen the witty banter in future books and lessen the internal dialogue. Now, I wish to make clear that I write for myself, not for readers, not to mention every reader enjoys something different. What one reader likes, another reader hates. One reviewer can express love for epilogues while another reviewer expresses hate for epilogues. Thus, I write what I want to read. I'm not going to ignore good advice, however, when given. Reading reviews is much like attending a writing group critique. Everyone has an opinion, and they're all worth hearing, but only a portion share your vision and style. There are plenty of reviews out there that will offer nothing of value, such as the ones who didn't finish reading past the first chapter yet felt the need to post a review espousing that. All I can say is I'm obviously not the writer for them. I think it's a missed opportunity for writers, however, not to read book reviews (especially the negative reviews!). Some of the best writing advice I've received has been from reviews.
What other authors are you friends with, and how do they help you become a better writer?
I do have several writing friends, some of whom are virtual friends I've met through the writing and romance online communities, and others of whom I've met through local critique groups or writing clubs. I would like to give a special shoutout to Colleen Hoover, however, as she was a student of mine in one of my writing courses during her university years, well before she launched her writing career. Color me surprised when she reached out to me to share her success. I hadn't made the connection between the student I knew and the successful writer she's become until she shared the news! Being able to catch up with her after so many years and see the happiness created by following her passion has been truly inspiring for me. Not only has her writing changed her life, it has changed the lives of her readers. Every time I see another reader gushing about her books and how much they mean to them, I think about the impact she's made, all from following her passion and not giving into self-doubts or criticisms. Seeing her journey has been inexpressibly inspiring to me.
What's your advice for aspiring writers?
Stay focused. Build confidence. Perfect your craft. Too many writers give up before they brave publishing or lack the confidence to continue in the face of criticism. Writing isn't about a public audience. Writing is personal. If you enjoy it, do it, and learn from the criticism rather than being broken by it. While doing what you love, remember that this is a skill like any other and takes perfecting and practicing. One doesn't jump into an archery competition on their first try, rather they practice, study different methods, hire a coach, try different bows and arrows, etc. Stay focused. Build confidence. Perfect your craft.
What's the best thing about being a writer?
The best thing about writing, for me, is a combination of time traveling and perspective swapping. When writing, I live in different times and places, experiencing what I never could in reality. I live uncountable lives by seeing the world through someone else's eyes, namely those of my characters.
Will you have a new book coming out soon?
The next book to hit shelves will be A Counterfeit Wife. The publication date is still to be determined, but we can expect it around early autumn or late summer. Launching within the next month will be a permanently-free sampler of my short fiction, so that will be a nice taste of my writing style for those who want to peek without committing to a book purchase until they're sure what I write is what they want to read. As aforementioned, I write for an intellectual audience, so my writing style isn't for everyone, yet it's the perfect match for some. The sampler will include the fan favorites of my previously published short fiction, complete with illustrations, and showcase the winners of the short fiction contest I held over the Christmas season. It'll be great to have my work featured alongside these guest authors and introduce readers not only to my writing style but also theirs. The upcoming freebie is Romantic Flights of Fancy and part of the new Hourglass Romances series, the entire series being a once-a-year publication of permanently free short and flash fiction stories
Read Also:  Interview with author Jennifer Brozek
                        Interview with author Diann Floyd Boehm
What is your preferred method to have readers get in touch with or follow you (i.e., website, personal blog, Facebook page, Goodreads, etc.) and link(s)?
I would love to meet and greet new readers! Get to know me at:
www.paullettgolden.com
www.facebook.com/paullettgolden
www.Instagram.com/paullettgolden
www.Twitter.com/paullettgolden
www.goodreads.com/paullettgolden
www.amazon.com/Paullett-Golden/e/B07JGQ6JZV?
www.bookbub.com/profile/paullett-golden
www.librarything.com/author/goldenpaullett
What do you want to say about our website?
I enjoy Prachesta's focus on lifestyle, be it an article on starting a business, tips on incorporating yoga into daily practice, interviews with authors, or otherwise. This is a terrific go-to for those looking for guidance and insight into hobbies and interests, work or play.
Paullett Golden Author of Historical Romance Real People. Real Conflicts. Real Romance.