Web hosting is a vital aspect of website development, whether for business or personal use. However, with numerous web hosting companies available, it can be daunting to choose the right one that caters to all your needs. It is crucial to note that not all web hosting providers offer similar features, which is why thorough research is necessary to find the best web hosting that matches your specific requirements. As an experienced web developer with over 15 years of expertise, I recommend considering important factors like uptime, speed, security, customer support, scalability, user-friendly control panel, backup, reputation, pricing plans, and additional features to make an informed decision.
In this blog post, I'll guide you through the process of choosing the best web hosting package from some of the most reliable web hosting providers.
What Are Web Hosts or Web Hosting Companies And How Do They Work?
Web hosts are web hosting companies that provide web hosting servers for website owners to host a website and publish their content online. The reliability of these servers is essential, with most companies guaranteeing 99% uptime. This is crucial because if your website is not accessible, potential customers cannot find or access your products or services. Therefore, choosing a reliable web hosting company is a critical decision for any website owner.
As a result, uptime consistency is critical. A high proportion of uptime demonstrates that your website will have less downtime. And you want to save time. The longer your website is unreachable, the more visitors you will lose.
Usually, data centers rent disk space and data transmission capacity to most web hosts. Then, the website owner is billed by a website host based on disk storage, bandwidth, or the number of visits to the site. Domain name registration and SSL certificates are also available from major web hosting companies.
Types Of Web Hosting
Different types of web hosting services are available through many web service hosting providers. 
Here are some of the common types of hosting services:
Shared Hosting

Managed hosting

VPS hosting

Dedicated hosting

Cloud hosting service
There is also web hosting for WordPress sites only, and mostly they provide managed WordPress hosting services.  
As a result, deciding on a hosting web service can be complicated sometimes. Most websites are available on the internet using either shared hosting or Cloud hosting services as they are the cheapest web hosting plans offered by most web hosts.
Shared hosting is a great option for smaller businesses and is typically the most affordable option. It involves multiple customers sharing the same web server, which can be beneficial for businesses that don't have high-traffic websites.
Dedicated hosting is a better option for larger businesses that need more control and security over their website. This type of hosting includes a dedicated web server, which allows businesses to have their own space on the web.
How To Choose The Best Web Hosting For Your Website?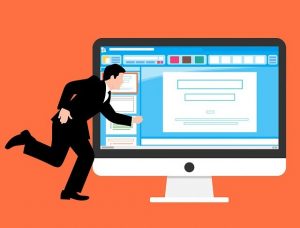 Finding a reliable web host and selecting a suitable hosting plan is one of the most common issues you may face. It isn't easy to choose because there are so many things to consider – speed, security, and reliability are the most important factors you need to consider when choosing your Web hosting. 
When selecting the best hosting solution, you'll also want to consider the features included in the hosting package. Look for hosting providers that offer a range of features such as unlimited storage, email accounts, website builder tools, and 24/7 customer support. Additionally, some hosting providers offer discounts for longer-term contracts, so if you're looking for long-term hosting, it's worth looking into these types of packages.
Finally, it's important to look at the cost of the web hosting package. Many web hosting providers offer low-cost packages, but you'll want to make sure the features included in the package meet your business needs. Additionally, some hosting providers offer discounts for longer-term contracts, so if you're looking for long-term hosting, it's worth looking into these types of packages.
I have worked on hundreds of website projects for many small businesses in the past 15 years. I am currently working as CEO at Technosmith which helps small business owners to build their websites.
Based on this experience, I will explain many web hosting services to help you better understand web hosting.
Compare The Best Web Hosting Companies:
Performance is an important factor to consider when selecting a web hosting plan for your small business. You want to make sure that the hosting provider you choose can handle the traffic your website will generate and that your website runs smoothly.
The type of hosting plan you choose can make a big difference in the performance of your website. You need to consider the features that each type of hosting offers, such as shared hosting, dedicated hosting, and virtual private servers. Each type of hosting has its own advantages and disadvantages, so you need to make sure you select the one that fits your needs.
You also need to consider the features that are included in the hosting package. Look for unlimited bandwidth and storage, as well as support for different programming languages. These features can help ensure that your website runs smoothly and securely.
Finally, you need to think about the cost of the hosting package. Different hosting companies offer different pricing models, so it's important to find one that fits your budget.
By considering these factors, you can easily select the best web hosting solution for your small business. With the right web hosting plan, you can ensure your website is secure and running smoothly.
Here is a list of the best web hosting service providers you can choose to host your new website:
Bluehost is one of the most popular web hosting companies in the world and is a great option for small businesses. Bluehost offers a variety of hosting plans, including shared hosting, dedicated hosting, and WordPress hosting. Additionally, they offer features such as unlimited storage, email accounts, website builder tools, and 24/7 customer support. Bluehost also has a reputation for providing reliable servers and excellent customer service.,
Bluehost is one of three hosts that WordPress officially recommends. They have low prices and a user-friendly platform that makes running a WordPress website simple. Bluehost can certainly host other types of websites, but it is clearly designed to work best with WordPress.
Bluehost will usually walk you through a task the first time you do it, such as setting up a blog or email account on your site.  Bluehost also provides excellent analytics and SEO tools for tracking how well your website ranks for specific keywords. This provides you with a good idea of how to optimize your site for the best search rankings.
The Basic shared hosting plan is normally $8.99 per month, but there are significant discounts for new customers. You can get it for $4.95 per month if you sign up for three years and lock in the price.
The price drops to $3.45 per month with a 12-month commitment. Renewal pricing, like that of other hosts, is higher than promotional pricing, so we recommend signing up for a longer contract to lock in the low price.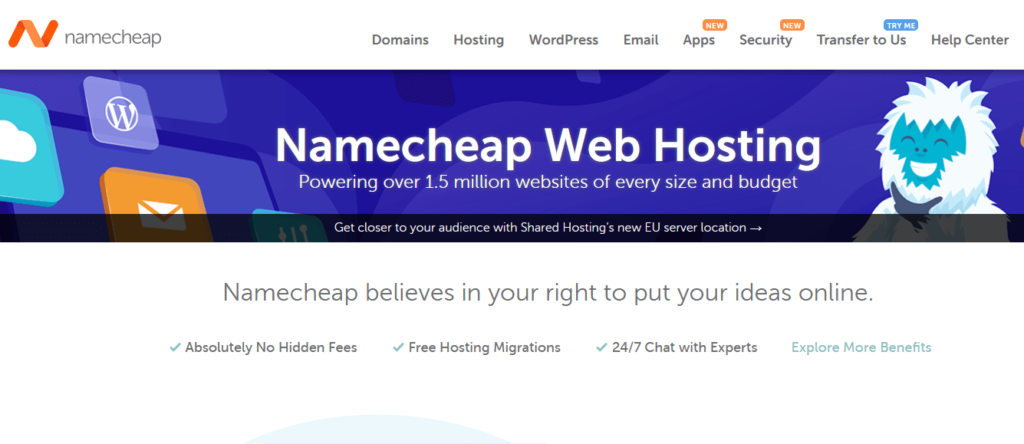 Namecheap is the cheapest domain registrar and web hosting company available. They provide .com domains for as little as $6.98 for the first year, along with a variety of useful add-ons. It provides trustworthy hosting for over 1.5 million websites of all shapes and sizes in addition to domain names.
Namecheap began in 2000 as a domain registrar, and its success drove the company to diversify its offerings, including hosting. It presently serves more than 11 million consumers and manages more than 3 million domain names.
Namecheap offers a Steller shared hosting plan at $2.18 per month with a 51% discounted rate for the first year. Renewal pricing is higher than the first-year promotional pricing, so we recommend signing up for a longer contract to lock in the low price.
Namecheap has been in business for more than two decades and is well-known in the hosting industry. With more than five million hosting clients, Namecheap is clearly doing something right. You may trust that they have worked out a lot of issues over the years and now have a generally good product.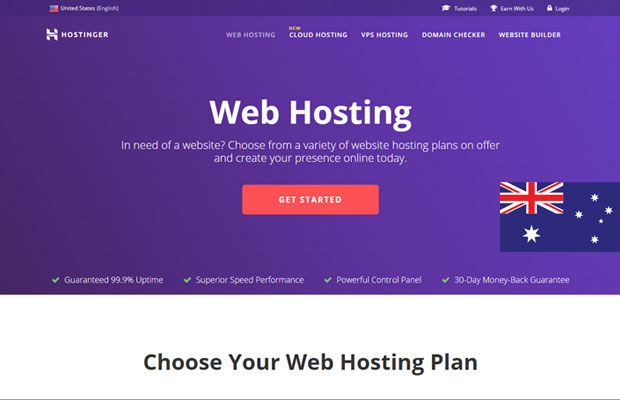 Hostinger is another well-known name in the web hosting industry. They offer affordable hosting, live chat support 24 hours a day, and a stable platform on which to host your website. In terms of web hosting, Hostinger delivers the ideal setting.
Speed, features, and an excellent global support team are all available to you at the lowest prices on the market with them. It's a great deal for the money! The company claims an average response time of 143 milliseconds for its WordPress sites. If you require assistance, this promise guarantees that you will receive a response in less than 50 seconds.
Even so, if you sign up for a year-long membership with Hostinger, you'll get perks like an SSL certificate and Cloudflare security. Cloudflare security and an email account make Hostinger stand out from most of its competitors, which typically reserve these features for the more expensive plans.
Hostinger also includes automatic 1-click WordPress installation, managed automatic updates, enhanced security, a free CDN, WordPress speed acceleration, and free site migration. Additionally, one of the largest hosting companies, Hostinger serves over 29 million users every day. The company's performance and commitment to customer service are two of the reasons for its continuous success.

If you have a website or are planning to build one, you should definitely give HostGator a try. There's a lot to like about the company and very little to dislike about it.
During the 45-day money-back guarantee, if you decide the web host isn't right for your site, you won't lose any money. In business for more than a decade, HostGator is one of the most trusted and reputable web hosts. It's good at a lot of things, like customer service, hosting flexibility, uptime, and shared hosting.
HostGator is a great choice for anyone who wants to run a website because it has a lot of experience, a wide range of options, and great performance. HostGator has a plan for you, no matter what stage you're at in the process of making a site.
You can start right away with their drag-and-drop website builder. On the other hand, you can ask HostGator's dedicated Migrations Team to help you move and set up your website for the best performance on their platform for free.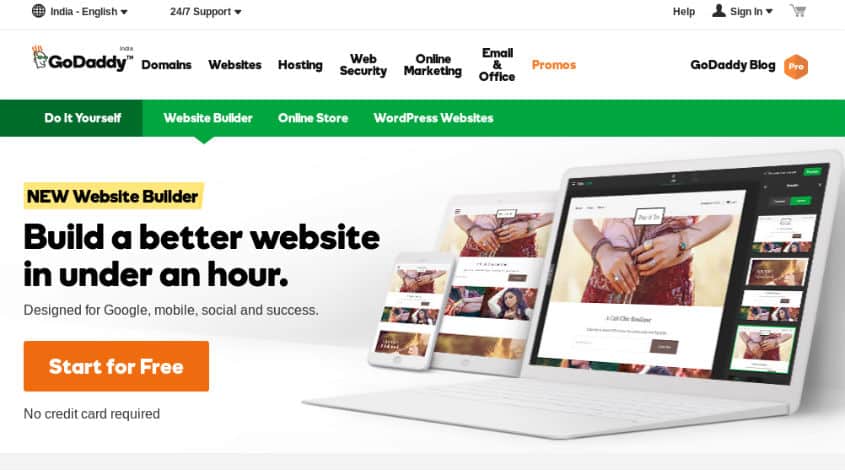 GoDaddy is a key player in the web hosting business, offering shared, WordPress, VPS, and dedicated hosting services. The company was founded in 1997 by Bob Persons. The company has more than 20 million customers and over seven thousand employees worldwide.
Each month, almost 100,000 people conduct Google searches for Godaddy. They offer a variety of web hosting services. Godaddy, on the other hand, offers more expensive hosting plans. GoDaddy offers an excellent user interface and lives up to its performance commitments.
Even with the cheapest shared hosting plans, you're missing out on several capabilities that other web hosts include as standard. For the Economy and Deluxe plans, there is no secure sockets layer (SSL) certificate or malware scanning. Although GoDaddy's premium plans include an SSL, there is still a security fee (that nearly doubles your total cost on the lowest plan).
Not all countries or help channels are covered by GoDaddy's 24/7 customer service. However, in many countries, including the United States and the United Kingdom, phone help is available around the clock. There may be some countries where live chat is not available at all times.
Free domain name registration is a huge perk of using GoDaddy as your web server. GoDaddy takes a step further than most of its competitors by offering the first year of your domain name for free. For the first full term of your domain registration, you can receive it for free.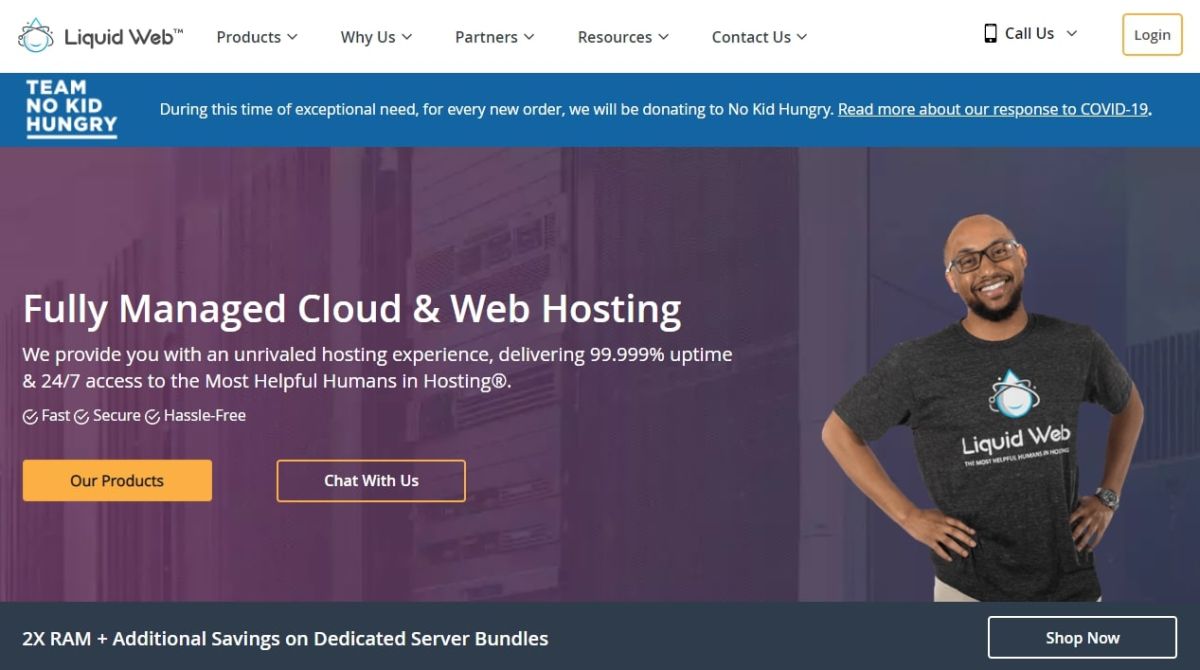 Liquid Web is one of the best web hosts for small businesses. Even many fortune 500 brands rely on LiquidWeb to keep their online presence up and running. Cloud, dedicated, reseller, virtual private server (VPS), and WordPress servers are all available from the company, which offers a wide range of options.
Unfortunately, shared web hosting, which individuals and the smallest of businesses typically use, is not provided by LiquidWeb. If you're looking for an affordable shared hosting plan, you'll have to consider another web hosting provider.
Liquid Web's business hosting plans are more expensive, but they come with a higher level of customer service. You can refer to the people working in their customer service department as heroes among the world's most helpful hosts. That equates to a 99.9% uptime rate and a response time of just 59 seconds from certified techs.

Network Solutions is a well-known domain name registrar with reliable, if not particularly exciting, web hosting services on offer. To put it another way, if you're looking for a cheap shared hosting plan, you'll have to look elsewhere.
However, beyond the entry-level plan, we don't believe customers will find the best deals on Network Solutions hosting packages despite the additional storage space and limitless bandwidth available. The Premium Plan, which costs more than $20 a month, is priced among the highest-end VPS providers.
In addition to Network Solutions' high uptime guarantee (99.99 percent), we'd like to see more premium features like high-performance solid-state drives, automated backups, and DDoS protection.
Many programming languages are supported, including PHP, ASP.NET, JSP, Ruby on Rails, and more. There are dozens of one-click installations available from the hosting company for popular applications, but keep in mind that the company's competitors typically have hundreds of scripts.
With an uptime guarantee of 99.99 percent and customer service available 24 hours a day, seven days a week, Network Solutions' shared plan is rock solid. When all is said and done, Network Solutions has a respectable hosting package, but its feature set is rather short in comparison to that of other web hosts.
10 factors to consider on how to choose a web host?
Here are 10 factors to consider when choosing a web host:
Reliability and Uptime: The web host should have a proven track record of high uptime, which means your website should be available to visitors all the time.
Speed and Performance: The web host should be able to deliver fast load times to ensure a good user experience.
Security: The web host should have robust security measures in place to protect your website from cyber threats.
Customer Support: The web host should offer 24/7 customer support that is responsive and knowledgeable.
Scalability: The web host should be able to accommodate your website as it grows, with flexible resources and pricing plans.
User-Friendly Control Panel: The web host should provide a simple and intuitive control panel to manage your website and hosting account.
Backup and Recovery: The web host should have a robust backup and recovery system in place to protect your website data in case of a disaster.
Reputation and Reviews: The web host should have a positive reputation and good reviews from other users.
Pricing and Plans: The web host should offer pricing plans that are fair and transparent, without hidden fees or charges.
Additional Features: The web host should provide additional features such as email hosting, domain registration, and website builders to enhance your online presence.
These are some of the key factors to consider when choosing a web host. Make sure to do your research, compare different options, and choose a web host that meets your specific needs and budget.
The Bottom Line
Whenever you want to select a hosting package, it should never be taken lightly. Because a good host will always support your website according to your needs. I have discussed the most popular web hosting service providers here; you can thoroughly research them. You can also visit their website for more information and thus choose the best one for you.
Disclosure: Be sure to thoroughly review the Terms of Service and contact customer support with any concerns or questions you have before deciding to choose a web hosting provider.  This post may contain affiliate links, meaning we get a commission if you decide to make a purchase or sign up through our links, at no cost to you. Please read our disclosure for more info.