To establish the best startup business, you must be aware of all of the technology needed. Having the right technologies in place when starting a business startup can help you succeed. The most important factor in a startup company's success is the usage of cutting-edge technology.
Why does the best startup business need technology?
Technology has become an essential part of successful business ventures, especially for online business startups. As technology facilitates data flow management, HR, Payroll, inventory, business communication, and customer relationship management. Through social media and other digital marketing tactics, business owners can quickly engage with their customers and increase brand exposure. Additionally, the correct technology solutions can assist businesses in streamlining their processes and maintaining organization, which is critical for scalability. Additionally, product-based firms can leverage technology to enhance both the employee and customer experience during the sales process.
Eventually, it minimizes the requirement for human and physical resources in most business startups. All of these advantages of technologies help your business become more productive and efficient. A wide variety of alternatives are available to consumers, ranging from desktops and servers to small flash devices and internet apps.
However, you should invest in technology solutions that are appropriate to your everyday routine. No matter what route you take, be sure to incorporate these crucial technologies throughout all of your company's day-to-day activities.
Whether you're still in the planning phase or have just launched your business startup, you must have the following business technologies to grow your business to the best startup business.
:
1. A website or online store for your business startup
You can allow customers to interact with your business through a website. A website with a shopping cart allows them to purchase products from you at any time of day or night. With a digital store, your customer base isn't limited to those in your nearby neighborhood, but can also include those from all over the world.
To launch a website you need to get also a domain name for your business and web hosting from reputed domain names and hosting providers like Namecheap and Godaddy. After that, you need to start the development of your website and you can hire a freelance web developer or web development agency like our company Technosmith to develop an elegant website for your business.
2. Software for communication
One of the most important types of software for every business is communication software. Good communication software is essential for the majority of business startups, especially those with remote employees or clients located across the country or perhaps the globe. The best video conferencing, email, and instant messaging services are those that are easy to use and provide the greatest level of reliability because this will ensure that there is no room for misunderstanding within your company.
3. Software for Office needs
if you want to produce reports or even advertisements, you'll need to have the most up-to-date office software installed. Many business startups take office software for granted, forgetting that it is required for conducting 80% of all commercial operations. As a result, you should ensure that your office software bundle is up to date and that each employee is familiar with the use of the software so that they can do all of their office-related activities swiftly and easily. Microsoft Office is the most popular office software program and you can also try the alternative Officesuit office software pack.
4. Customer relationship management (CRM)
Customer relationship management (CRM) is a software application that handles your customer interactions. A CRM system is not a one-size-fits-all solution. To manage, analyze, and develop customer interactions efficiently, you need a comprehensive set of cloud solutions that support each stage of the customer journey.
5. Project management software
A project management software application is a type of collaborative online application. Each person working on a project logs in to see what they're required to accomplish and when they're supposed to do it. Additionally, these individuals track their progress on those activities and include pertinent details, such as notes about any adjustments. Individuals with the right permission level can also see what others are doing, what conditions they must meet to complete the task, and when they must do it.
6. Financial management tools:
Financial management is frequently the deciding factor between a successful and a struggling business. Regardless of the size of your firm or the industry in which it operates, effective financial management is critical to the smooth operation of your business processes.
While business startup finances can be complex and scary, the correct financial management solution can significantly simplify the process. These integrated systems can assist in transforming particular areas of your business and focusing attention on areas that require optimization.
7. Cybersecurity software:
By implementing cybersecurity software early in your business's lifecycle, you can safeguard critical company and consumer data. Purchase antivirus software, which protects computers and networks against viruses and other dangerous assaults. Additionally, you may wish to invest in a corporate VPN to ensure that only authorized users have access to your network.
8. High-speed Internet Connection
Fast connections are a critical component on which your entire company depends. You will be unable to keep up with deadlines, orders, and communications if your business does not have fast Internet, and you may find it difficult to use the many other types of technology that are necessary for the seamless operation of your organization. As a result, you should pick a reputable Internet provider, ensure that your connections are optimal, and purchase a signal booster if you are using Wi-Fi and need to speed it up.
10. Security Cameras or Video Surveillance
Security cameras can be put in every part of a business startup to make it less likely that people will break in or do something bad. A well-placed business security camera can help stop theft.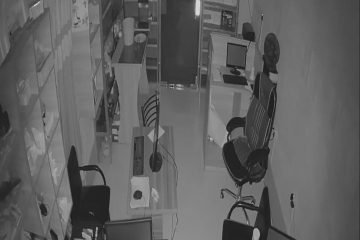 small startup businesses are more likely to be concerned as employees steal office accessories from them. This is because there aren't enough safety measures in place. This kind of crime can be stopped by a high-quality security system that has video cameras. Customers may think more favorably of your business if you have a well-maintained security system with CCTV cameras in place, and this could help.
As direct and indirect protection for your employees, video surveillance security cameras keep them safe from potential harm. In the company's parking lots and on its grounds, they can keep an eye out for any suspicious activity and report it to the company's security staff or other people who should know about it.
Read Also : 
What is Internet Safety? 7 ways to stay safe online
Troubleshoot Windows: How to factory reset Windows 10 PC?