D.A. Andrews was born and raised in Kingston, Jamaica. Over the years, she has had a broad interest in various aspects of her life, including coffee, weddings, books, and psychology. She graduated from the University of the West Indies Mona Campus and holds her Bachelor of Science degree. She has a degree in Marine Biology and Psychology (Honors Degree) and is currently an MBA. She considers herself a nomad of the heart and has changed towns and homes every time she changed clothes. She is currently resting her head with Luna, a black cat (and with her confidence) in Brunswick, Georgia.
Here is an interview with author D.A. Andrews
Can you tell us a little bit about yourself?
I am a BIPOC author who was born and raised in Jamaica. I attended university there where I pursued a BSc in Marine Biology and Psychology. I migrated to the States when I was 21 with a huge dream in mind that I would one day be a writer (and own a coffee shop!). Currently, I work in the food and beverage industry (events) and in my free time, I mostly binge watch Netflix, travel as much as I can, and play with my two babies Luna (a black cat) and Geo (a bulldog shepherd mix).
How many hours a day do you write?
I like to say that I often write whenever I get hit by the elusive creative fairy. So some days, I don't write anything at all. And other days, I write for hours on end.
How many unpublished and half-finished books do you have?
Oh gosh! Quite a few (think double digits)! But I will be working on them eventually!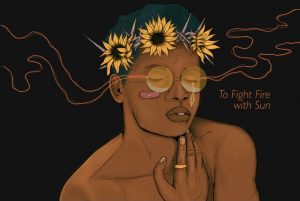 Where did you get the idea for your recent book?
It sort of happened in two parts. For the title, I was driving home one day from work, and I was on the causeway when I think my little creative fairy paid me a visit. I just had the words "To Fight Fire with Sun" pop into my head and I knew it would be a good title. I just made a note of it and went on with my day. A few months later, a dear friend of mine passed and I just sort of broke down and booked a ticket to Jamaica and spent quite some time there writing my book.
When I finished, I knew I had to name it TFFWS.
If you didn't write, what would you do for work?
I have this weird fascination with wanting to do everything, haha So I would want to be a travel writer, own a coffee shop, and do wedding planning (to name a few).
What is your favorite childhood book?
I had a huge collection of Enid Blyton novels. I could not get enough of them!
What are you currently working on?
My second book! Hoping to release it later this year!
Do you read your book reviews? How do you deal with bad or good ones?
I read all of them! Or, at least, I try to. When it's good, I reassure myself that my book has found its people. When it is bad, I try not to let it consume me and remind myself that everyone is entitled to their opinion and they do not HAVE to like my book. I try to take it as constructive criticism and also remind myself that other people have loved it.
What's your advice for aspiring writers?
You are never as bad as you think you are. Everyone was a beginner once. Take it one step at a time, one day at a time, and eventually (with the work) you will improve. I, also, do not believe you have to write every day to be a great writer. Some of us can barely focus enough to do that haha Cut yourself some slack, be gentle with yourself and your craft, always write for you first and foremost.
Read Also :
What's the best thing about being a writer?
My ability to be anyone and be anywhere I want to be! My imagination can take me anywhere haha
What is your preferred method to have readers get in touch with or follow you (i.e., website, personal blog, Facebook page, Goodreads, etc.) and link(s)?
I love interacting with readers on Instagram, twitter, and tiktok.