Rich Davis is the writer and creator of the underground horror sensation Cult of Dracula from Source Point Press. In a short period of time, he's built a reputation in the comic book industry as an innovative marketer with a tireless work ethic. Rich Davis came out of the gate strong with his first comic book.Cult of Dracula is widely acknowledged as one of the breakout horror hits of 2021. Rich Davis will continue his Dracula saga with Rise of Dracula in December 2021 and Reign of Dracula in 2022 through Source Point Press. Rich Davis has never been afraid to take a risk on his passions! He funded Cult of Dracula out of his own pocket, built an amazing creative team and found a publisher with moxie that would make PT Barnum blush! Once Source Point Press gave him a platform, Rich drove the project with fierce tenacity. He built relationships with local comic book shops. He established connections with podcasters and online fan forums. In short, he built a loyal community for Cult of Dracula. Now, his entire focus is dedicated to rewarding the faith and trust that community placed in him. Rich  Davis has led an eclectic life. Rich Davis founded a performing arts theatre, worked as a concert booker and a film producer. He's radio personality, an actor and a screenwriter. He even served as a campaign staffer for two Presidential campaigns! Now he gets to tell scary stories for a living. Some might wonder at such an eclectic background, but he prefers to see it as an adventure.
Here is an interview with  Rich Davis
Here is an interview with Rich Davis, writer for the comic book series Cult of Dracula and Rise of Dracula:
How many hours a day do you write?
Writing requires discipline. Whether you're doing it as a hobby or persuing it as a career, it's up to you to put yourself in the best position to succeed. So, I have "office hours" for myself. Even if I don't have any inspiration to write, I put myself in my office to stay in the habit of writing. At minimum I'm in my office 4 hours a day. If I've got something in mind or get on a roll, that might double.
How many unpublished and half-finished books do you have?
None. I don't move on to my next project until I've finished my current. That is absolutely not the norm in comics. Most creators have 3, 4, 5 or more projects going at once. My mind doesn't work that way. It's the same for me with tv shows, video games, etc… When I'm in a world, I'm fully immersed.
How long on average does it take you to write a book?
A single issue of a comic is around 24 pages. When I actually start writing an issue, it doesn't take long. I can write a full issue in a day or two. It's the prep time that takes longest. That part can take months or more  I deep dive into the themes and concepts in my books. 95% of what I research never makes it directly into the book, but indirectly it influences the subtext behind my characters' motivations. It fleshes out the world even if you can't immediately see it.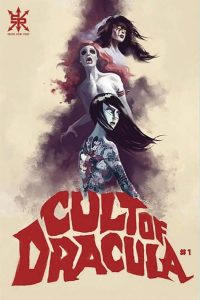 How did you develop your plots?
I was taught that there are essentially two types of writers: architects and gardeners. An architect designs a complete, very detailed plotline and never deviates from it. Gardeners, on the other hand, work from a very basic plot but are more open to "side quests", for lack of a better term.
I'm more of a gardener. I begin by outlining a bare bones plot. I know I  need to hit certain points to keep the story going, but my characters decide how we get there. It may sound nuts to some, but I have full on conversations with my characters. They tell me what they want to do, where they want to go, what they want to say. They've got the story. It's up to me to translate it in a way that makes narrative sense.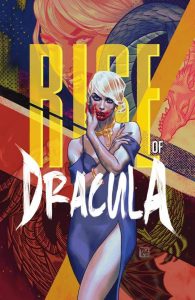 How do you select the names of your characters?
In my current comic, l have a core of essential and previously established characters. They're names and characteristics are fixed. I also need lots of small characters to flesh out the world. I have fun with those. I pull important people from my life, friends, family, even characters I admire from movies and tv shows. In one issue, I bring my cousin Staff Sergeant Nate Ballou into the book. In another, I have a White House staffer named Dolores. She was inspired by Mrs. Landingham from Sorkin's "The West Wing".
If you didn't write, what would you do for work?
I've done lots of things in my life. I've been a radio talk show host. I've worked for a newspaper. I've been a paid staffer on two Presidential campaigns. I've owned a bar and a comic book shop. I worked in both the film and theatre industries. Now I get to write comics. I don't really know what I'll do next, but I hope they let me keep doing this for awhile longer.
What is your favorite childhood book?
It's not a popular story nowadays. There are some very clear racial stereotypes that I was not aware of as a child, but "Br'er Rabbit" was a book I loved dearly. I don't know if it's the book itself or the fact that my mom read it to me so often. She'd do the character voices and everything. I have very fond memories of that book.
Have you read anything that made you think differently about fiction?
Lots of things! I'm constantly reading, watching, listening to and learning from others. I think you have to be open to new ideas and innovative ways to spin a plot or construct a scene. If you're not improving yourself daily, you're stagnating. Stagnation doesn't sustain a career.
What are you currently working on?
I just finished issue #6 of "Reign of Dracula". Both "Cult of Dracula" and "Rise of Dracula" have had a lot of success. So much so that they've inspired me to take a gamble on something more.
I'm currently devising a shared horror universe. The Dracula story is the foundation. I intend to draw other classic, Victorian monsters into an overarching, meta plot culminating with the final volume of the Dracula saga, "Reign of Dracula".
It's ambitious as hell, but if I can pull it off… I hope it'll be cool!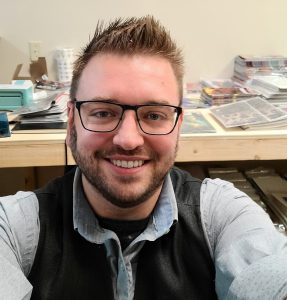 Do you read your book reviews? How do you deal with bad or good ones?
I come from a theatre background, so making adjustments based on constructive criticism is second nature to me. I read every review and I learn something from each one. To me, there's no such thing as a "bad" review. It's all feedback from my audience. Every review is a window into what my fans are thinking. I learn a great deal from that.
What other authors are you friends with, and how do they help you become a better writer?
I've been very, very fortunate to cross paths with some truly amazing comic creators. I've had the opportunity to work directly with many of them. I'm forever grateful to each one of them who was kind enough to share advice and offer guidance when I had no idea how to do all of this. I'll never forget that and, in return for their kindness, I will never fail to pay it forward. If someone asks me for help, I'm more than happy to give it.
What's your advice for aspiring writers?
Finish your script. It's really that simple. About 80% of scripts never get finished. If you finish yours, you're already in the top 20%. That's a great place to start a career.
What is your preferred method to have readers get in touch with or follow you (i.e., website, personal blog, Facebook page, Goodreads, etc.) and link(s)?
I'm very active on Facebook and IG. We've got a really cool community on there. Great interactions. Those are probably the best ways to reach me. I respond to every message I receive.  It's super simple to find: @cultofdraculacomic
https://www.graphitecomics.com/title/Source-Point-Press/Cult-of-Dracula