Miranda Oh, is the author of the Chin Up Tits Out series. Miranda's motto in life is to always have a chin-up tits out attitude, no matter what!. Here is an interview with author Miranda Oh.
I am in my mid-thirties, a mom, an author, podcast host, and I am a corporate trainer for an insurance company. I have written a three part series called Chin Up Tits Out. Which follows a young gal going through love, triumph and tribulations. I absolutely love to keep many projects on my plate, as somehow I tend to accomplish more. I strive to find the positive in any situation, no matter how challenging or dark, as I believe if you try and find the positive in every situation, you will attract more positivity in your life, and who doesn't want good things happening in their life?
How long on average does it take you to write a book? 
When I am focused, I can write a full novel in about 40-50 hours – now that is just the first draft, I edit for another 30-40 hours before sending it off to a professional editor. Now those 40-50 hours can be broken up into 1 hour time slots or a chunk of big time slots. As I became a mom, gone are the days where I could write for six to eight hours with a glass of wine in tow. Life is ever changing, and so does my writing process.
I was diagnosed with a condition called Endometriosis, after the diagnosis, I decided to interview 100 women from around the world who have the same condition and get their life stories, I wanted to depict all the things women go through when it comes to thier lady bits. One, because it is taboo and sometimes difficult to talk about and two, we need to find love for our lady bits, we get one set in this life, so let's find a way to celebrate them!.
If you didn't write, what would you do for work?
I work in corporate, and I love it, mostly because my team is absolutely fantastic, supportive, and brilliant. I love to speak and share my stories, and somehow I still intertwine my stories into my work life.
How did you get inspired to write your recent book?
Everything on endometriosis is negative and bad, mostly because the disease sucks and medical science isn't at a place where it can tell us why we get this. I wanted to find some way to celebrate the women who have this disease. one in ten women worldwide suffer from this, and the fact is, if you don't have it yourself, or know someone directly with it, then you may have never heard of it. I want to spread awareness, but from a positive side of things.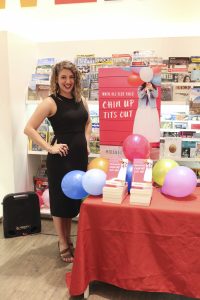 I do read them, the bad ones…well are sometimes tough to swallow, and the good ones bring happy tears to my eyes. I tell myself that if someone likes/dislikes my story enough to write a review – then I have done my job as an author to provoke emotion.
I love my author contacts and friends, because everyone has a different process and a different POV, listening and learning about their processes and points, in my mind, makes me a better writer, because I have a new outlook or a new perspective because of them.
What's your advice for aspiring writers?
Just do it – if you have a story, but your nose to the grind and get it out. There are plenty of ways to self-publish, and you can be successful that way! Listen to podcasts, read blogs, and reach out to other authors, we are always inspired by new folks wanting to join the industry. We aren't in competition with one another, we are all here to help each other.
What was the best money you ever spent as a writer?
A publicist. They help get your name out there, and get you known in the industry and the writing community. Best money spent ever. Shout out to my publicist, Mickey Mikkelson with Creative Edge Publicity
If that the story is yours, from your brain, and you get to see it come to fruition. It is the best feeling in the world to hold that test book in your hand once it is complete. I can compare it to holding my newborn baby. for me, both holding my baby girl and holding my books for the first time generated a similar brain release of endorphins and happy feelings!
What is your preferred method to have readers get in touch with or follow you (i.e., website, personal blog, Facebook page, Goodreads, etc.) and link(s)?
Facebook or IG is the best way to reach me. I love connecting with my readers, chatting about their POVs of my stories, and sharing with me how they relate to the books.
Facebook -Author Miranda Oh & IG: @Ohmirandaoh