Declan Finn is the NYC-based author of books ranging from thrillers to urban fantasy to SciFi, including the Dragon Award Nominated Novel for Best horror in 2016, Honor at Stake, and the 2017 follow-up, Live and Let Bite. He was also nominated for "Best Apocalypse" novel at the Dragons in 2017. He also won the book of the year award with his novel Hell Spawn from CLFA.
Finn is known for being annoyingly Catholic, his action sequences, and writing faster than most readers can keep up with. In less than a decade, he has written 30 novels and is waiting for all of them to be published. He's been part of multiple anthologies and will write for anyone.
Here is an interview with Author Declan Finn
Declan Finn is the author of around 30 published books. Here is an interview with author Declan Finn.
Can you tell us a little bit about yourself?
Certainly. I'm Declan Finn, the author of some 30 published books that span multiple genres. I've got a background in history and philosophy, so that makes me useless for almost anything else but writing. Granted, I use my history degree to write thrillers and my philosophy degree to create the metaphysics behind vampires, so no one really saw these uses coming.
How many hours a day do you write?
Nine hours a day, when the schedule allows.
How many unpublished and half-finished books do you have?
At this point, only a dozen. Perhaps fewer.
How long on average does it take you to write a book?
My record is two, two, and a half weeks. But that doesn't count the rewriting, which is the hard part.
Where did you get the idea for your recent book?
My most recent book is Main Street DOA. I basically wanted a terrorist takeover of a theme park. I had inappropriate amounts of fun during that time. About it.
How did you develop your plots?
I believe it was Raymond Chandlers who said, "When the plot slows down, send a man with a gun through the door." That's as accurate a summary as anything.
How do you select the names of your characters?
At random, mostly, For aliens, I will take human names and swap some letters, or change vowel sounds. For humans, sometimes it's just a matter of seeing who's active on Facebook and stealing a first name from one corner, and a last name from another.
How did you get inspired to write your recent book?
Fan fiction
What is your favorite childhood book?
Vertical Run by Joseph Garber. Yes, I was a very unusual child.
What are you currently working on?
I'm currently editing books 4 and 5 of my space opera, as well as writing a sequel series to my "Love at First Bite" quartet.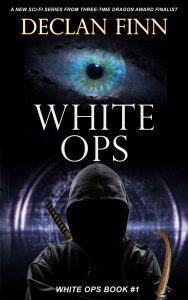 Do you read your book reviews? How do you deal with bad or good ones?
I usually read book reviews to family members. They find them entertaining. Bad ones I make fun of since they're usually written by the barely literate. I once used the street gang MS-13 as a random encounter villain, and someone tried to accuse me of being a "white nationalist." I don't know what "nations list" is exactly unless it was a musical number on Animatics growing up.
What other authors are you friends with, and how do they help you become a better writer?
I'm friends with more than a few authors:
Hans Schantz
, who does great paranoid political thrillers.
Daniel Humphreys
is on par with
Jim Butcher
in urban fantasy.
Karl Gallagher
is possibly the best hard sci-fi and fantasy author I've ever read.
Russell Newquist
does great modern action fantasy, and his wife Morgon has created an awesome superhero universe.
NR LaPoint
does great fantasy, on par with John C Wright, another genius.
L Jagi Lamplighter
has built a magical universe that makes
Neil Gaiman
or
JK Rowling
look like powers.
They make me a better writer mostly by inspiring me to one-up them. Heh heh heh.
What's your advice for aspiring writers?
If you **want** to be a writer, I say to you: No, you don't. No, really, you don't. Falling into writing will reprogram your brain, and trust me, your brain will not shut off.
If you **have** to be a writer, and you've already reprogrammed your brain: Get a day job, even if it's an associates degree in being an electrician. Trust me, if you're compelled to write, that won't stop you, and it'll give you marketable skills, while also giving you new tools… like being able to kill someone in a book with faulty wiring.
Why yes, I've written murder mysteries.
What was the best money you ever spent as a writer?
Cover art. Unless you're a skilled artist, don't make your own. You'll thank me later.
Will you have a new book coming out soon?
I have Main Street DOA, book #3 of my White Ops space opera, coming out on March 15th. Later this year, my next Saint Tommy NYPD book will be coming out from Silver Empire Press. And At year's end, I hope to have five books in the "Honeymoon from Hell" series coming.
What is your preferred method to have readers get in touch with or follow you (i.e., website, personal blog, Facebook page, Goodreads, etc.) and link(s)?