Andrya Bailey is an award-winning contemporary novelist. She enjoys traveling and visiting museums and historical sites where she can learn about art and history, which she often incorporates into her stories. Andrya Bailey loves writing romantic stories with strong alpha men and weird storylines – after all, what's more romantic fantasy?
Olympian Passion, the first book in the Olympian Love Trilogy, received the 5-star seal from Readers' Favorites and is the 2016 winner of the New Apple Literary Romance e-book – Solo Medalist . Olympian Heartbreak, the second book, is the "Official Selection" of 2018 New Apple Literature in the romance genre.
Here is an interview with Andrya Bailey.
Andrya Bailey Can you tell us a little bit about yourself?
I write contemporary romance, and I'm passionate about traveling, history, and languages. When I write, I try to incorporate elements of all of them into the stories. I'm currently learning how to speak modern Greek, and also speak Portuguese, Spanish (and have in the past also learned German, French, and Italian, although not fluent any more since I don't use them much!).
My Andrya Bailey  romance trilogy has been translated to Spanish and is being also published in Greece. I've been involved for several years with the Houston Writers Guild, and I'm currently a Board member of The Ocotillo Review literary journal, which is published by Kallisto Gaia Press, and have also worked as a flash fiction editor for the journal. I also write other genres, poetry, flash fiction, and short stories under another pen-name.
Andrea Bailey How long on average does it take you to write a book?
It depends. I've written a book in 30 days for the NaNoWriMo challenge, and it has also taken me 3-4 years to write others.
Where did you get the idea for your recent book?
My most recent book was the third and final book in a romance trilogy, but the idea for the trilogy was born many years ago when I was visiting the museum of fine arts. I had the idea of a character visiting the museum and falling in love with a curator or archaeologist, then started to write about it and the trilogy came to life.
Andrya Bailey How did you develop your plots?
I'm a pantser, so I plan very little. I let the characters take over the story. But basically, I determine a possible inciting incident, clarify what choice the characters have in dealing with the incident, and proceed with their decision, so the action is created by the inciting incident. It goes with the flow.
How do you select the names of your characters?
Sometimes I use a name generator, but most of the time I just think of a name and try to imagine if that name would be a match to what I have in my mind about the character.
What is your favorite childhood book?
The Little Prince.
What are you currently working on?
A new romance novel. I have the first chapter going on but it's still in the very preliminary stage.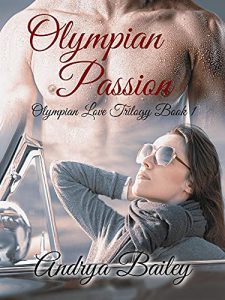 Do you read your book reviews? How do you deal with bad or good ones?
Yes, I read. Obviously, I enjoy reading the good ones and finding out what the readers liked about the characters and the stories. When there's a bad review, I try to see if there's any positive criticism about anything I should improve, or if it's just a comment from someone who didn't understand the story or didn't identify with the characters or situations, or maybe picked the book thinking it was another genre. Once I had a bad review from a reader whose 5 star reviews were all for "alien romance" – I'm not surprised the reader wouldn't really enjoy a contemporary romance between two humans embedded with history and mythology!
"No two persons ever read the same book," a quote by Edmund Wilson, always comes to mind when I think about reviews. Every Nobel Prize winner of Literature has had bad reviews. It's just part of the job.
What other authors are you friends with, and how do they help you become a better writer?
There's a huge community of authors where I live and I've been fortunate enough to have befriended many of them and also on-line communities that I'm a part of. We collaborate with critiques, exchange of ideas, participation in conferences, and events. We become better writers by networking and from learning from the experience of our colleagues.
What was the best money you ever spent as a writer?
Paying for a good editor, to ensure my manuscript was ready for publication.
Will you have a new book coming out soon?
I don't have a deadline for the new book yet, but I'm working on it and hopefully will be able to publish it either this year or early next year.
Read Also : 
Interview with author Diann Floyd Boehm
A Beautiful Interview With Author Jamell Crouthers
What is your preferred method to have readers get in touch with or follow you (i.e., website, personal blog, Facebook page, Goodreads, etc.) and link(s)?
Subscribing to my newsletter is the best way to get the latest news about my books, and I also hold giveaways frequently. Newsletters usually go out every two months or sometimes monthly if there is news worth sharing.
Twitter: https://twitter.com/AndyB0810
Instagram: https://www.instagram.com/andryabwriter/
Facebook: https://www.facebook.com/andryabailey
Website: www.andryabailey.com
What you want to say about our website?
It's very well formatted, has a lot of relevant information, and I was thrilled to find it. I thoroughly enjoyed all the articles and interviews I read so far. Great job! And thank you so much for hosting me, it's been a pleasure and honor to be featured in your website.