Why desktop computers are better than laptop?
If you want to buy the best computer for you, you'll have a lot of choices. Even though laptops and tablets dominate the PC industry. But, desktops are often the best option and the best value for many people, including small businesses, families, creative professions, gamer, and tech geeks.
Computers, on the other hand, have taken many forms since becoming common household items.  Additionally, desktops can be altered to suit your requirements. You can upgrade your computer's performance by adding more storage, RAM, a better graphics card. keyboards, and mouse.
Therefore, everything can be customized or upgraded on a desktop PC. Because of this, repairing a cracked laptop screen or a damaged keyboard on a desktop computer is much simpler than on a laptop. Desktop computers are capable of storing large amounts of data and running high-quality games.
However, despite the fact that laptops are dominating the market, modern desktop computers offer a number of unique advantages that leave room for debate.
When it comes to computational power and upgrade-ability, desktop computers have a wider range of configuration options than laptops. As we proceed through this buying guide for a desktop computer, we'll keep all of these things in mind.
Desktop PCs and their components are more cost-effective than laptops and their components. For $500, you can obtain a desktop computer with a more powerful Core i7 CPU and maybe even a dedicated graphics card instead of a laptop with an Intel Core i5 processor.
The Best Desktop Computers for 2022
All-in-one PCs are the best option if you're looking for a shared family room PC or a simple desktop for your new home office or classroom. They take up the same amount of desk space as a standard computer monitor while offering a larger screen, a faster processor, speakers, and a basic webcam.
No matter what your computing needs are, we have listed here best desktop computers for 2022, so you can make a decision to buy a desktop computer in 2022.
1. HP Pavilion 24 All-in-One 16 GB RAM Desktop
The HP Pavilion All-in-One PC is designed to handle demanding projects and movie marathons while looking attractive. Its excellent balance of design and function complements any home. Overall, the HP All-in-One 24 is a great choice for families who require a PC for basic media viewing and editing.
| | |
| --- | --- |
| Item Dimensions | 21.27 x 6.5 x 17.12 inches |
IntelR Core i7-10700T processor, 10th Generation, with Intel turbo boost up to 4.5 GHz. SSD dual-storage configurations with up to 512 GB SSD and 1 TB HDD are available. Computer Memory Size 16 GB of RAM enables you to multitask more efficiently than ever before. INCLUDES WINDOWS 10 AND A WARRANTY, AS WELL AS A FREE UPGRADE TO WINDOWS 11. Without a dongle, the keyboard and mouse may connect wirelessly (which frees up the need to use a USB port). In terms of design and functionality, both the keyboard and mouse appear to be excellent options. However, this desktop does not have a backlit keyboard.
Price: $1,279

.

99  

GET IT
Dell XPS 8940 Intel i7 1TB SSD 16GB RAM Desktop — $949.99
Dell Inspiron 3891 Intel i5 256GB SSD 12GB RAM Desktop — $599.99
HP Omen 25L Intel i5 GTX 1650 256GB SSD Desktop — $799.99
Dell Vostro 5890 Intel i7 GT 730 Dual Storage Desktop — $969.00

HP 24-inch All-in-One Touchscreen Desktop Computer 

 — $625.00
desktop computer, pc computer, best desktop computer, pc with windows, all in desktop
About this post
【Powerful Performance with Intel Core i5-10400 6-Core Processor】 10th Gen Intel Core i5-10400 6-Core Processor (up to 4.3 GHz)
【Customization】 Upgrade to 16GB DDR4 2666MHz Memory | 512GB NVMe M.2 Solid State Drive | 8X Dual Layer DVD Recorder (DVD-RW)
【Connectivity】 Intel 6 AX200 802.11ax dual-band 2.4GHz and 5GHz wireless Wi-Fi with MU-MIMO 2 × 2 technology | Bluetooth 5.1 | 10/100/1000 Gigabit Ethernet LAN
【Input/Output】 1 x USB 3.2 Type-C Gen 1 Port (up to 5 Gbps) (Front) | 5 USB 3.2 Gen 1 ports (1 front and 4 rear) | 2 USB 2.0 ports (rear) | 2 HDMI ports
【Rock Digital Pack】 Windows 10 Home, including USB keyboard and mouse, Rock eDigital accessory (1x HDMI cable, 1x USB extension and 1x mouse pad)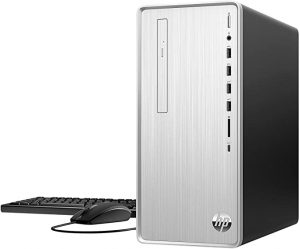 About this item
PROVEN-PERFORMANCE – Made for the contemporary-day family, the HP Pavilion Desktop PC brings the contemporary era and reliability from a depended on logo that protects what subjects to you maximum
DURABLE AND STYLISH – Ditch the stupid black field with a cultured silver PC that now no longer most effective flawlessly suits in any area, however is constructed to ultimate with 230 great exams to its name (1)
AMD PROCESSOR AND GRAPHICS – Whether you're gambling the contemporary video games, designing the subsequent skyscraper, or crunching medical data, cope with all of it with the effective AMD Ryzen 7 5700G laptop processor (2) and AMD Radeon Graphics (3)
MEMORY & DUAL STORAGE – With sixteen GB of RAM, the whole thing from multitasking to gambling video games receives a overall performance boost (four); plus, with 256 GB of SSD garage (5) (6) and 1 TB of SATA tough force garage (7), you will revel in speedy boot-up times, snappy responsiveness, and lots of area to keep all of your documents and pix
USB PORTS – Quickly and effortlessly join a 2d display, outside garage drives, and all of your add-ons with four SuperSpeed USB Type-A and 1 SuperSpeed USB Type-C (8) ports at the the front of this PC, and four USB 2.zero Type-A ports at the rear (9)
WINDOWS eleven HOME AND WARRANTY – From a rejuvenated Start menu to new methods to join, the Windows eleven Home OS is the location to think, express, and create in a herbal way (10). Start each day with self assurance with a 1-yr restrained assurance to guard your buy
CONSISTENT WIRELESS EXPERIENCE – Stay related to all of your wi-fi add-ons with the dependable Wi-Fi 5 (1×1) & Bluetooth (802.11a/b/g/n/ac) combo (eleven) (12). Work with out interruption or spotty connectivity with an MU-MIMO-supported pc tower
MODERN ENTERTAINMENT – Elevate any film night time or gaming consultation as your HP laptop pc capabilities all of the important ports for immersive, 5.1 surround sound
HP QUICKDROP – Wirelessly switch pix, videos, documents, and greater among your PC and cellular tool with HP QuickDrop
KEYBOARD AND MOUSE – Complete your property workplace setup with the covered USB black stressed out keyboard and mouse combo
About this item
【Powerful Performance with Intel Core i7 10700】 10th Gen Intel Core i7-10700 (2.9GHz base frequency, up to 4.7GHz with Intel Turbo Boost Technology, 16MB L3 cache, 8 cores)
【Customize】The seal is only open for hardware/software upgrades to improve performance. Upgrade to 32GB DDR4 2933MHz memory | 512GB NVMe M.2 SSD + 1TB 7200RPM HDD | Intel UHD Graphics | No DVD
【Connectivity】 Realtek Wi-Fi 5 (2×2) and Bluetooth 5.0 Combo, MU-MIMO support, 10/100/1000 Gigabit Ethernet LAN
【Input/Output】 1 x USB Type-C, 4 x USB 3.1, 4 x USB 2.0, 1 x HDMI, 1 x VGA, 1 x headphone/microphone combo jack, 1 x memory card reader 3 in 1
【Operating System / Accessories】 Upgrade to Windows 10 Pro, 13.28 x 6.12 x 11.97 inches, 13.14 lb, MOUSE AND KEYBOARD:
Black, Black USB Wireless Keyboard and Mouse Kit, 32 GB USB 3.0 Flash Drive.
About this item
ROBUST COMPUTER HUB:
Power through everything from basic computing to multimedia entertainment every time you turn on this exciting machine. Easily expandable and powered by a 12th Gen Intel Core i5 processor, it has the speed, power and storage to get more done every day.
12th Gen Intel Core i5-12400 6-core processor (up to 4.4 GHz) | Intel UHD Graphics 730
12GB 3200MHz DDR4 Memory | 512GB M.2 2280 NVMe Solid State Drive | 8X Dual Layer DVD Recorder (DVD-RW)
Intel Wireless Wi-Fi 6 AX201 802.11ax dual-band 2.4GHz and 5GHz with 2×2 MU-MIMO technology | Bluetooth 5.2 | 10/100/1000 Gigabit Ethernet LAN
1 – USB 3.2 Type C Gen 1 Port (up to 5Gbps) (Front) | 2 – USB 3.2 Gen 1 port (1 Front & 1 Rear) | 4 – USB 2.0 port (rear) | 2 – HDMI port (rear)
Includes USB keyboard and mouse | Home Windows 11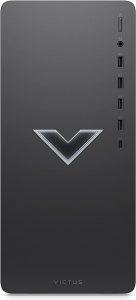 About this item
THOUGHTFULLY CRAFTED – The HP Victus 15L Desktop has the whole thing you want to take your gaming to the following level, from its rapid processor to its life-like images
LIGHTNING-FAST PROCESSOR – Modernize your world; this HP pc offers you all of the productiveness gear you want way to the acquainted Windows eleven Home OS (1); plus, a effective twelfth Generation Intel Core i7-12700F processor (2) helps you to preserve gaming with immediately responsiveness
IMMERSIVE GRAPHICS – Enjoy an immersive in-recreation sense with wonderful visuals supplied through NVIDIA GeForce RTX 3060 images card with 12 GB GDDR6 committed memory( (3)
MEMORY & STORAGE – The sixteen GB DDR4-3200 SDRAM memory (2 x eight GB) (4) and 512 GB PCIe NVMe M.2 Solid State Drive (5) offers you lots of garage on your preferred games, entertainment, and extra
MOUSE AND KEYBOARD – The covered HP 310 black stressed out gaming keyboard and mouse mixture offers you all of the controls you want for max overall performance
PORTS FOR EVERYTHING – Plug on your preferred gadgets or outside garage the usage of nine full-sized ports
HP QUICKDROP – Smoothly switch photos, music, and files out of your Victus for your cellphone way to HP QuickDrop
SECURE CONNECTION – Play uninterrupted and skim the internet with a rock-strong connection way to the Wi-Fi 6 (2×2) (7) and Bluetooth mixture (eight)
SUSTAINABLE DESIGN – Responsibly designed;the HP Victus Desktop is made with sustainable water-primarily based totally paint (nine), this HP Victus is likewise ENERGY STAR certified (10) and EPEAT Gold registered (eleven)
RELIABLE HP SUPPORT – Game with self assurance understanding that HP gives on line and social media assist in addition to prolonged guarantee alternatives to shield your investment.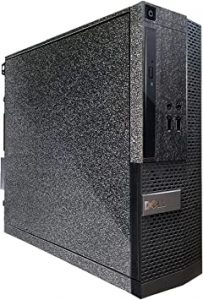 About this item
System:
Intel Core i5 up to 3.6 GHz quad core | Memory 16 GB | 512 GB Solid State Drive
DN:
Genuine Windows 10 Professional 64-bit – Multi-language Support
Connection:
2 USB 3.0 ports | 6 USB 2.0 ports | 1x RJ-45 | 1x series | USB Wi-Fi | USB-Bluetooth | DVD
A special function:
Custom appearance
1 year parts and labor | Lifetime free technical support.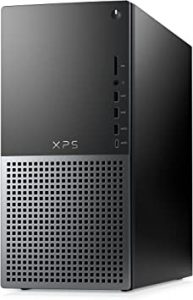 About this item
Powerful 12th Gen Intel Core i7-12700 12-core processor (up to 4.9 GHz with Intel Turbo Boost Technology, 25 MB smart cache, 12 cores (8P + 4E), 20 threads)
【Gaphics】 Nvidia Geforce GTX 1650 Super Graphics Card with 4GB GDDR6 Dedicated. NVIDIA's GTX Turing architecture delivers immersive gaming experiences. Video output:
1x DisplayPort, 1x HDMI, 1x DVI.
【Memory, Storage & Operating System】 32GB DDR5 4800MHz RAM; 1TB PCIe NVMe SSD + 2TB HDD (2x 1TB) 7200 rpm for data storage; Windows 10 Home
【Connections and Ports】 Killer 1675 Wi-Fi 6 (AC 2×2) 802.11AX and Bluetooth 5.2, integrated 10/100/1000 Gigabit Ethernet LAN. Front port:
1x USB 3.2 Gen 2 Type-C with PowerShare; 3x USB 3.2 Gen 1 Type A; 1 headphone/mic combo jack; 1 SD card reader; Rear port:
1x USB 3.2 Gen 2 Type-C; 2x USB 3.2 Gen 1 Type A; 2 x USB 2.0 Type-A; 1 RJ45 LAN port; Surround sound ports. Internal gold 460W power supply; Includes Dell black wired keyboard and mouse; Compact aircraft night sky:
14.68″ x 6.81″ x 16.8″ inches (H x W x H), 16.36 lbs.
About this item
✔ AMD Ryzen 5 3600 6-core 3.6GHz (4.2GHz Turbo) processor | SSD 1TB
✔ GeForce RTX 3060 GDDR6 12GB Graphics Card (May Vary Brand) | 16GB DDR4 3000MHz Gaming Memory | Windows 10 Home 64 bit
✔ 802.11AC | No bloatware | Graphics output options include 1 x HDMI and 1 x Display Port Guaranteed, additional ports may vary | USB ports include 2.0, 3.0 and 3.2 Gen1 ports | HD audio and mic | Free gaming keyboard and mouse
✔ Heatsink and 3 RGB fans | Powered by an 80 Plus Gold certified 600 watt power supply | Skytech Shadow game console case with tempered glass – Black
✔ 1 year warranty on parts and labor | Free Lifetime Technical Support | Assembled in USA | This powerful gaming PC is capable of running all your favorite games like World of Warcraft, League of Legends, Grand Theft Auto V, Apex Legends, Fortnite, Roblox, PLAYERUNKNOWN's Battlegrounds, Overwatch, Counter-Strike:
Global Offensive, Battlefield V, Minecraft, The Division 2 and more at high to extreme settings, crisp Full HD 1440p resolution and smooth gameplay at 60+ FPS.
About this item
【Memory and Storage】 PC memory upgraded to 32GB DDR4 SDRAM for enhanced high-bandwidth for easy switching between open applications; HDD upgraded to 512GB PCIe NVMe M.2 SSD for fast booting and data transfer, 1TB HDD for large storage space
【Processor】 6.60GHz Intel Core i5-11400 6-core processor (12MB Cache, up to 4.40GHz), NVIDIA GeForce GTX 1660 Super
【Port】 1 x USB 3.0 Type-C; 4x USB 3.0 Type-A; 4x USB 2.0 Type-A; Combo 1 headset / mic; 1 memory card reader; 1 HDMI port; 1x RJ-45; 1 DVI port; 1 DisplayPort; 1 microphone input; 1 analog line input; 1 x Front Left / Right and Headphones
【Accessories】 Black USB wireless keyboard and mouse included
【Operating System】 Windows 11 Home 64 bit