Mary Elizabeth is a best selling author. Here is an interview with author Mary Elizabeth.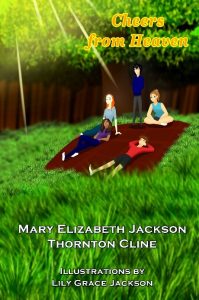 Mary Elizabeth! Can you tell us a little bit about yourself?
I am a wife and mother of three miracles. I am an award-winning children's author and last year became an Amazon bestselling and international bestselling author in several collaborative anthologies. My very late in life surprise son inspired my children's series and is one of the reasons my writing focus is to help empower kids, teens, and adults. It's important for kids to accept themselves no matter how they came into this world.
I am an ambassador advocate for Autismtn and advocate advisor for the global for profit Billion-Strong. I also co-founded and co-host the Writers Corner Live TV Show, Special Needs TV, and Writers Corner Network online.
How many hours a day do you spend writing?
It depends because I am a ghostwriter so sometimes I have to spend more time working on a client's project than I might on mine own. This can get tricky when trying to balance. I try and get in between 3-6 hours on days I can write and sometimes it's broken up depending on my schedule.
How many unpublished and half-finished books do you have?
I have about 10-12 unpublished and half-finished/ just started books. I do have a file on my tablet with ideas for stories or poems.
Where did you get the idea for your recent book?
I wrote the book back in 2018 with my writing partner and friend Thornton Cline. We rewrote, fixed, and edited it till this past year when it released in Oct. 2021. We wanted to write an anti-bullying book for kids that would teach them skills, redemption, and empower them. Some parts of it are based on a true story that occurred in Thorntons life.
How do you select the names of your characters?
For this book because it is for middle graders we decided to use some names of my daughter's friends. For other characters, I research names and see what name fits with the character's personality. Sometimes its fun to make up a name or piece names together too.
If you didn't write, what would you do for work?
I am not sure because it is my soul work to write and be an empowered communicator but if I didn't I would be an entrepreneur, teacher, photographer, or filmmaker.
What is your favorite childhood book?
There were quite a few I loved, but Little Women was definitely one of my favorites.
What are you currently working on?
I am finishing a journal for kids. I have two ghostwriting clients right now but in my spare time I am working on a book about my real-life experiences in this life. I don't know if I will write it a non-fiction story or fiction.
I have met so may authors over the last 3 ½ years of interviewing them on my author show. I have learned something from each one of them. Ken Abrahams is my mentor and has taught me so much about writing and working towards being the best writer I can be. Thornton Cline is also a mentor of mine and he pushes me to always do better and stretch myself.
What's your advice for aspiring writers?
If you are aspiring to write then just start writing. Don't wait for the perfect spot, day, or time in your life. I have learned to write in the car rider line, at practices, and presently I am writing this while my daughters are rehearsing a song to record. When you begin writing, it might be something you don't keep or use. A literary agent once told me write your first chapter, then throw it out and start again. The point is just start writing and don't expect perfection especially at first, just write.
What's the best thing about being a writer?
The ability to inspire, motivate, help others heal, and bring them joy through creativity and escape. Writing is a very healing tool for all of us whether we are published or not. It is a place that never judges us and allows us all the freedom we may need in the moment. It allows me the space to be creative and lets my spirit soar. Writing is also a form of self-care.
Will you have a new book coming out soon?
I have an adult motivational book waiting to be published, but I don't know the date yet. And I am presently working on my next book.
Read Also :
Meet Author Gary Turner – Interview with Gary Turner
Author Mandy Eve Barnett's Most Beautiful Interview: You Must Read
What is your preferred method to have readers get in touch with or follow you (i.e., website, personal blog, Facebook page, Goodreads, etc.) and link(s)?
They can find me at:www.maryejackson.com
https://www.goodreads.com/author/show/16353359.Mary_Elizabeth_Jackson
https://www.linkedin.com/in/mary-elizabeth-jackson-514a1122/
https://www.instagram.com/maryejackson5/
https://www.facebook.com/jackson.mary.elizabeth
What do you want to say about our website?
I really enjoyed your website. It has a wide variety of information and there is something for everyone to enjoy, learn, or just find something entertaining. Great job on the website.