Award-winning author E.A.Coe is F.Coe Sherrard, a former entertainment executive, naval aviator and graduate of McDaniel College. Kor was born in Hubbard Grace, Maryland in September 1949 and grew up in Rising Sun, Maryland. He has been married to college lover Jean since 1971, has three fathers and six grandfathers. Kor lives in the beautiful Shenandoah Valley of Edinburg, Virginia. He published Full Count in 2018, The Road Not Taken in 2020, and his third book, The Other Side Of Good, in January 2022. Helen Jean Smith, 2020. Kor's book, The Other Side of Good, ranked first in the Noir Fiction category at the Firebird Book Awards. He also won the Gold Book Award for this novel from the Literary Titan and was a finalist in the 2021 Indie Today Book Awards.
Here is an interview with author E. A. Coe
 E. A. Coe Can you tell us a little bit about yourself?
E. A. Coe … is F. Coe Sherrard, a former United States Naval aviator and career businessman, who is retired and lives in Edinburg, Virginia. A graduate of Western Maryland College (now called McDaniel College), Coe flew carrier-based logistical support aircraft during the latter years of the Vietnam Conflict, and Airborne Early Warning aircraft as a Naval Reservist until he retired as a Commander in 1991. He was a senior executive in two entertainment companies, including Spirit Cruises and Herschend Family Entertainment (manager of the Dollywood Theme Park). Married to Jean since 1971, Coe has three children and six grandchildren.
 E. A. Coe How many hours a day do you write?
Depends on what phase of a novel I'm in. Right now, I'm in the dizzying cycle of post-release marketing for The Other Side Of Good, so I have little time left to spend on the next book. When this phase winds down, I can get back to working on the next book, spending anywhere from a couple of hours per day to five or six. My "author requirements" aren't nearly as important as my grandparenting ones at this stage of life, so writing never interferes with other activities.
 E. A. Coe How many unpublished and half-finished books do you have?
Only the next one I'm working on which is between 50%-60% complete.
How long on average does it take you to write a book?
On average, about a year.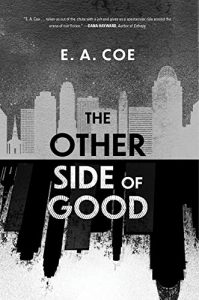 Where did you get the idea for your most recent book?
I had a character from a previous book (Denton Jones) that I wanted to use. In Full Count, Denton was from the tenements of Cincinnati, so that established the location. I knew that I wanted to make people think (philosophically) about the huge gray area in all of our lives that exists between "good" and "bad," so I needed anchors at the two ends of that continuum. A righteous policeman who helps underprivileged children on the side seemed like a good anchor for good, and at first, I thought drugs would be the anchor for bad. Then I bumped into something worse: Human Trafficking. Besides establishing a credible anchor for the worst sorts of evil, the new crime allowed me to make Theo Jackson (the reputed drug dealer of the book) a more interesting character.
How did you develop your plots?
In the Stephen King-advocated method (from his seminal book, "On Writing"), I outline a rough beginning to a rough ending … then start writing. I don't try to edit, refine, or research … I just write. I have found (as Mr. King suggested I would) that the story sort of evolves by itself through the exercise along with new characters and new side stories. Then, I go back and start researching in the areas that need it, editing, and rewriting… which takes way longer than the first writing!
 E. A. Coe How do you select the names of your characters?
Sometimes just randomly. Sometimes I use names of real people I have known in life who I know would like to be included in a book. Sometimes the characters come from previous books.
If you didn't write, what would you do for work?
Before I began to write novels, I was (first) a Navy pilot, then a corporate manager for two large entertainment companies, then the entrepreneurial owner of a small hospitality business. Of the three, I enjoyed owning the small business the most, so that is what I'd probably return to if I wasn't writing.
 E. A. Coe What is your favorite childhood book?
I can't remember back that far! As an adolescent, I enjoyed the entire James Fennimore Cooper "Natty Bumppo" series.
Have you read anything that made you think differently about fiction?
Two instances:
Sometime after I graduated from college, I read The Hobbitt and the Trilogy of The Rings. The books mesmerized me and made me appreciate how much I enjoyed reading … and I wondered why these books weren't presented to us in high school. And if they had been, how many other students would have "gotten the bug" to read. Without naming the books … you all know them … most the books proscribed for high school reading are boring and obtuse … at least for that age group. Tolkien's books are not only well-written, but they have serious allegories and symbolism to discuss, AND they are entertaining!
Later in life, one of my most revered mentors thought Undaunted Courage by Stephen Ambrose was one of the best books he ever read. This made me believe I needed to read the book, which I did. Certainly, the book is a serious and well-researched documentation of the famous journey of Lewis & Clark, but it isn't "light reading" and I struggled through the 600 pages like a good history student. Years later I read a fictional counterpart to Ambrose's book written by Michael Gear, Coyote Summer. I couldn't put the book down and was sad when it ended. Done well, historical fiction can effectively teach us while also entertaining us.
 E. A. Coe What are you currently working on?
A book tentatively titled, Pedaling West, about a young woman who decides to reset her life during the COVID-19 crisis by bicycling from Virginia Beach to Mendocino, California.
Do you read your book reviews?
All of them.
 E. A. Coe How do you deal with bad or good ones?
Revel in the good ones and look for things I can improve in my writing in the future from the poor ones. Sometimes the poor ones have nothing to do with the writing or the story … just a different perspective between reader and author.
What other authors are you friends with, and how do they help you become a better writer?
I E. A. Coe have quite a few author friends, some more experienced than me. These are my best and most trusted critics, and we share resources, tips, and suggestions.
What's your advice for aspiring writers?
Read Elements of Style (Strunk and White), Bird By Bird (Anne Lamott), and On Writing (Stephen King) … then start writing! Look for honest critique and keep evolving. The internet is full of free tools and advice to help you improve and you will … if you really want to, and if you keep practicing. Good writers can make money at writing through a combination of talent and luck … but there will be no luck without the talent first.
What was the best money you ever spent as a writer?
The Autocrit editing program
What's the best thing about being a writer?
Power and freedom. We have so few things in life that we may completely control, but as an author of fiction, we control every aspect of our story. We can make the good guy win, punish the bad guy, and always ensure the right woman ends up with the right man. Between the covers of our story is a personal kingdom with no rules except the ones we impose on ourselves. We have no boss!
Will you have a new book coming out soon?
Probably by the end of the year.
What is your preferred method to have readers get in touch with or follow you (i.e., website, personal blog, Facebook page, Goodreads, etc.) and link(s)?
Website: www.eacoe.online
Email: [email protected]
FB: https://www.facebook.com/AuthorEACoe
Goodreads: https://www.goodreads.com/author/show/20327313.E_A_Coe
What you want to say about our website?
Thank you for providing authors an opportunity to meet your readers.