Yogurt is a dairy product that is usually prepared by processing milk in various ways. It has huge health benefits. Yogurt is also helpful to reduce and get a relief from constipation.
In this article, we will discuss how yogurt can help relieve constipation problems. We will learn also about various Yogurt health benefits.
Read Also:  What is Heart Palpitations? How To Reduce Heart Palpitations with Ashwagandha
What Are Constipation And What Are Its harmful Aspects?
Constipation is a frequent issue for toilet humor, but for people who suffer from it, it's not at all humorous. According to medical guidelines, constipation is when a person has 3 or fewer bowel motions per week. And the procedure of releasing stool is uncomfortable and difficult.
Your body's buildup of feces can make you feel bloated, impair your ability to eat, and cause headaches or stomach pains, piles, anal fissures (tears in the anus), and rectal bleeding.
What Are The Causes Of Constipation?
There are many different causes of constipation. Some of the most common include a lack of fiber in the diet, not drinking enough water, and not getting enough exercise. Other causes can include stress, pregnancy, certain medications, and Irritable Bowel Syndrome (IBS).
If you are constipated, it is important to increase your intake of fiber. Foods that are high in fiber include fruits, vegetables, whole grains, and legumes. Also, drink plenty of water which will help keep the body healthy in various aspects. Aim for eight glasses a day. Exercise is also key in relieving constipation. A simple walk can do wonders.
If you are still struggling with constipation, there are a few things you can do. Yogurt is a great natural remedy for constipation. Keep reading to learn how yogurt helps to reduce constipation.
Does Yogurt Cause Constipation?
Our first options for reducing constipation are food and exercise, and among foods, pro-biotics like yogurt are what we generally eat. However, a high dairy product intake has been found to make chronic constipation worse in certain individuals.
This may be due to casein, a protein found in milk that is frequently poorly digested. Additionally, dairy products are deficient in fiber, so consuming a lot of them usually means sacrificing other kinds of fiber.
So can yogurt also cause constipation? It's unlikely unless you consume large amounts and skip out on fiber and other vitamins. However, you would do well to avoid FODMAP foods if your constipation is a symptom of irritable bowel syndrome (IBS).
Constipation can be relieved in otherwise healthy individuals by consuming dairy products sparingly without cutting back on fiber.
How Yogurt Can Help Relieve Constipation? Yogurt Benefits
Yogurt Bacteria Treats Constipation
Since yogurt is a pro-biotic food, it feeds the beneficial bacteria in your gut, giving it an edge over other milk products.  Just any yogurt won't do, let alone Greek yogurt. Pick pro-biotic yogurt with low fat that has an extra serving of beneficial bacteria. The unpleasant gastrointestinal symptoms, including constipation, have been demonstrated to be alleviated by yogurt containing Lactobacillus GG (LGG).
The common victims of constipation, the elderly and youngsters, can benefit from pro-biotic yogurt. A study discovered that consuming yogurt with galactooligosaccharides (a non-digestible fiber that promotes the growth of beneficial gut flora), prunes, and linseed on a daily basis helped older adults with constipation.
In another study, pro-biotic yogurt was given to 59 constipated kids, and those who received it had more frequent bowel movements, less discomfort while pooping, and less abdominal pain than those who merely ate yogurt.
When purchasing pro-biotic yogurt, check for the words "live and active cultures" or "pro-biotic" on the package. Everyone above the age of nine should consume three cups of yogurt daily to reap the pro-biotic advantages, according to the United States Department of Agriculture. At age of eight if you believe that three cups is too much, reduce the amount and add other pro-biotic sources to your diet.
The Different Types Of Yogurt And Their Benefits: Yogurt Benefits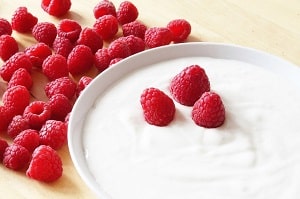 There are different types of yogurt available on the market, and each type has different benefits. Here is a list of the different types of yogurt and their benefits:
Greek Yogurt: Greek yogurt is a thick, creamy yogurt that is high in protein. It can help you feel full and satisfied after eating, making it an excellent choice for those who are trying to lose weight.
Probiotic Yogurt: Probiotic yogurt contains live microorganisms that can provide health benefits. These yogurts can help improve digestion and reduce the risk of constipation.
Organic Yogurt: Organic yogurt is made from milk that has been produced without the use of pesticides, hormones, or other harmful chemicals. This type of yogurt is generally more expensive than non-organic yogurt, but it may be worth the extra cost for those who are looking for the healthiest option.
The 10 Best Benefits of Eating Yogurt: Yogurt Benefits
1. Improves Digestion
Yogurt boosts the bacteria in our bodies and helps us maintain regular bowel motions. It improves the health of our digestive system and eliminates dangerous bacteria in the gut.
Additionally, lactose intolerance, constipation, inflammatory bowel disease, and Helicobacter pylori infections have all been successfully treated with yogurt.
2. Natural Immunity Booster
Regular consumption of yogurt enhances our immune system and protects our body from a variety of infections. Yogurt effectively fights against gastrointestinal infections, respiratory issues like the common cold, flu, and even cancer. Magnesium, selenium, and zinc in yogurt also improve immunity.
3. Reduces Risk of Cancer
Yogurt has anti-carcinogenic properties and is known to protect our bodies from colon, bladder, and breast cancer.
4. Regulates Blood Sugar Levels
Regular consumption of homemade, unsweetened yogurt helps to regulate blood sugar levels and is very good for people with type 2 diabetes mellitus.
5. Good for Bones: Yogurt benefits
Yogurt is a rich source of calcium, thus making it ideal for improving bone health. Regular consumption of yogurt preserves bone mass and strength, thus reducing the risk of fractures and osteoporosis.
6. Reduces Inflammation
Daily consumption of yogurt reduces inflammation in the body. Inflammation is responsible for most autoimmune diseases, diabetes, cancer, and arthritis.
7. Reduces High Blood Pressure and Risk of Heart Diseases
Consuming yogurt on a regular basis has been shown to reduce blood pressure which is a major risk factor for diseases of the heart.
8. Reduces Appetite and Weight
Thus, yogurt results in reducing the risk of heart diseases. The high protein content of yogurt makes us feel full, reduces our appetite, and thus decreases our calorie consumption. This, in turn, promotes weight loss.
9. Reduces Depression
Probiotics in yogurt help in reducing anxiety and stress, thus making patients with depression feel better.
10. Reduces Symptoms of Allergy
Consuming yogurt reduces the number of antibodies produced by our immune system in response to any kind of allergy. Probiotics present in yogurt are responsible for this action.
How To include Yogurt In Your Diet For Constipation Relief?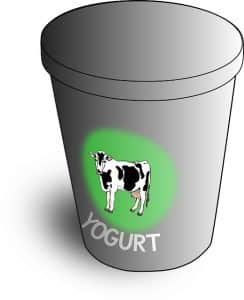 There are many ways you can work yogurt into your diet to help with constipation relief. You can eat it plain, add it to smoothies or juices, top it off with fruit or granola, or even use it in savory dishes. Yogurt is also a great addition to any meal, so don't be afraid to get creative!
Some ideas you can apply to get started are as follows:
Eat yogurt for breakfast with fresh fruit and honey
Add yogurt to your morning smoothie
Make a yogurt parfait with granola and fruit
Enjoy a bowl of yogurt soup for lunch
Use yogurt as a base for a healthy salad dressing
Add yogurt to your favorite curry recipe
The Bottom Line: Yogurt Benefits
So, it is true that yogurt can help cure constipation. As we said, Yogurt is high in probiotics, which are beneficial bacteria that help keep your gut healthy. Probiotics can help improve digestion and relieve constipation. In addition, Yogurt has many health benefits so you can intake it daily to improve your health.