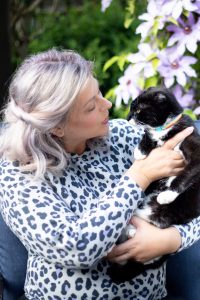 I am a full-time essential services worker and a mother of two elementary-age children.Christine Milkovic Krauss kids love choosing books from the school library and I'm always really impressed with the message of acceptance and kindness in the stories they choose for us to read together. During a pandemic, we have to get creative to make our home an exciting and positive space we all want to spend time in! Our whole family loves animals, so we decided to welcome a litter of kittens over the Christmas break. They have brought so much joy to our lives, so we plan to continue to encourage animals as much as we can! Then we see Teddy. Teddy belongs to our family and we knew it as soon as we met him. Since that day, he has made our family feel complete. His uniqueness and personality have inspired a series of stories that we hope to be able to share with other animal-loving young readers!
Here is an interview with Christine Milkovic Krauss
How many hours a day do you write?
It really depends. I have a full time job & two primary school aged kids who demand most of my attention. I could go weeks without actually taking moments to write; review or revise one of my stories, but I'm often opening a notepad on my iPhone to jot down ideas & points I want to be sure to incorporate into the next story.
How many unpublished and half-finished books do you have?
Currently 5 unpublished books. My next book is completely finished with illustrations.
Story 3 is written, but unedited.
The other stories have titles & themes, but I have yet to get them fully written out. They are ideas.
How long on average does it take you to write a book?
Only a few hours. Afterward, I'll take moments to read & review it multiple times and & simplify the story into very concise sentences so children can still understand the messages in as few words as possible.
Where did you get the idea for your recent book?
All of the books are inspired by my real-life cat; Teddy. Each children's book describes true life situations that we've encountered during the foster & Rescue process. Every story is based on completely relatable pet behaviors & some rather quirky incidents or events.
How did you develop your plots?
My children's reactions to some of these unique or even common pet scenarios are what made me realize that there are beautiful lessons here. I learn kindness & encouragement from my children every day.
How do you select the names of your characters?
Teddy is the main character. The cat was pre-named when we volunteered to Foster. Not only is Teddy cuddly, but his ear nubs look like teddy bear ears.
How did you get inspired to write your recent book?
Of course Teddy & my children are my biggest inspirations. However, the whole book idea whole started when we made the decision to adopt Teddy as our forever pet.
Teddy commands a 'one pet only' household, so we were no longer able to continue supporting the Heart & Soul Rescue organizing with Fostering opportunities. I hoped that by sharing Teddys story, it would raise awareness & inspire donations to organizations that promote 'adopt versus shop' for your next pet. So many amazing animals out there in need of a home.
What are you currently working on?
I am currently putting the finishing touches on Book 2 in the Adventures of Teddy series. This book is called 'Teddy Loves Spaghetti'.
This book shares completely different lessons about pet care, as well as nutrition, alternatives to good based rewards & an introduction to diabetes & understanding struggles or complications that 'friends' could be experiencing on a daily basis.
Read Also : 
Interview With Author December Knight
The Great Interview With Author Dr. Scott Johnson
Do you read your book reviews? How do you deal with bad or good ones? 
Yes, of course, I read every review! This is my first book & we can always learn more from others. i will say that it is scary putting yourself out there & open to criticism. Fortunately, the reviews have been very positive so far! I'm humbled & grateful & everyone's kind words keep me inspired to continue to share my stories & continue on this path.
Will you have a new book coming out soon?
Yes. Very soon. I hope to release Teddy Loves Spaghetti by September 2022.
What is your preferred method to have readers get in touch with or follow you (i.e., website, personal blog, Facebook page, Goodreads, etc.) and link(s)?
Currently, I have readers reaching out to me by commenting on Facebook posts or they privately message me. I would love for more readers & fans to review my book on Good Reads & Amazon!!
I am currently working on a Website which I hope to be completed by Easter.