Father and daughter literary combo Bill and Mia Belew.
In the US Navy, Bill worked as an intelligence and communications officer. After that, he spent over 20 years in Japan working as a tent-maker missionary. He lived in Silicon Valley during his third profession and worked with businesses who wished to develop their internet brands. He likes to write.
In the center of a start-up culture, Mia attends a private Christian school where she is in sixth grade. She enjoys reading chapter novels on Greek and Roman mythology, fantasy, and adventure. She has an endless capacity for reading.
Bill and Mia collaborated to write the book after becoming dissatisfied with the paucity of preteen novels that introduce new terminology without delving into mature subject matter.
Here is an interview with Author Bill Belew
Bill Belew is the author of Growing Up Aimi series. He co-authored this YA book series with his teen daughter Mia Belew. He is an interview with author Bill Belew.
When did you first realize you wanted to be a writer?
My daughter and I were driving to school one day. I asked her what she was reading and she mentioned a book that I had heard her talk about before. I wondered why she was reading the same book again. She told me she couldn't find something to read that wasn't too mature for her age. 
"How about we create our own book series?" I proposed.
"Okay!" she replied.
We started working on own series of books from that day.
How long does it take you to write a book?
From zero to lets start the next book … to published and available on Amazon it can take about 9 months.
During this process we write a first draft, a second draft, share it with advanced readers, write a third draft. We also have to create a cover, format it and meet Amazon's specifications. 
What is your work schedule like when you're writing?
I, dad, write at a coffee shop each day from abt 9 am till 4 pm. When a chapter draft is done, I send it to Mia. She reads and provides feedback. I, dad, usually come up with the story ideas. Mia creates the characters and gives valuable feedback and suggestions when dad gets stuck. We actually have a small book on our collaboration process for the first book in our series – Making of The Giant Forest for anyone interested on the details of how we created our first book.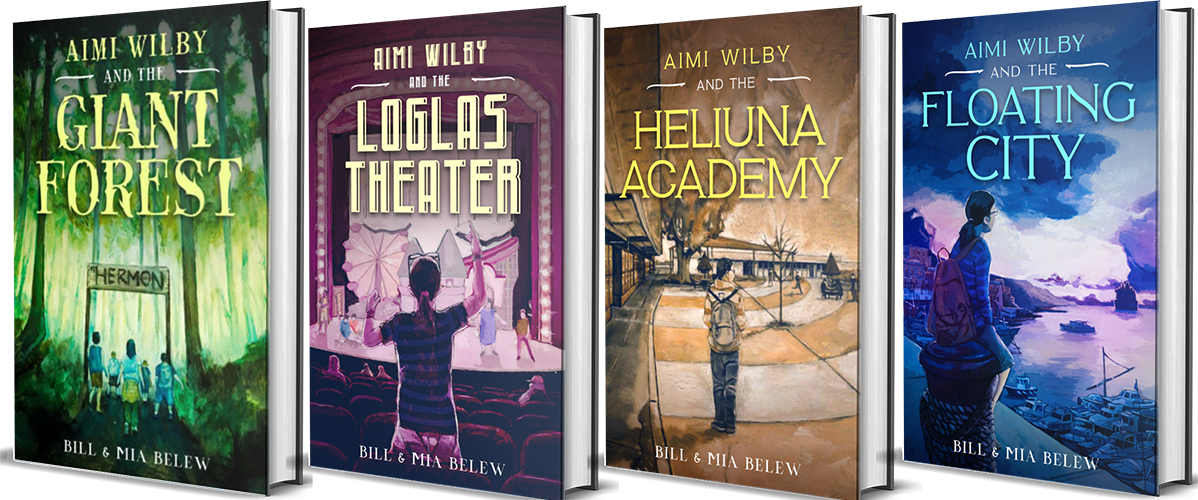 What would you say is your interesting writing quirk?
I write better if there are cookies nearby. I also do a lot of 'writing' while I walk. That is, I work out the ideas, the story or the direction for the next chapter while I walk. When I finally sit down I can pound a chapter 1000-1500 words in an hour or so.
How do books get published?
There are fundamentally two ways. Write a book and beg some traditional publisher to do it for you. Or, you can do it yourself. We chose the do it yourself way. We write our books on Reedsy.com. Reedsy is terrific for formatting and preparing a book to be uploaded. We publish our books on Amazon, Barnes & Nobles and other large online distributors. 
Where do you get your information or ideas for your books?
Books and stories are generally theme based, character based or setting based. The best books, of course, have all three – good story, good characters and good world building. We like to keep our stories true-to-life. No fantasy, magic, time travel and the like. With that in mind, I come up with a theme for a story. For example, the value of friends when family disappoints. Or the value of teachers, the value of kindness or the value of sacrifice. These are the themes for our first four books. With a theme in mind I create a story so the reader can discover those timeless truths. My go to place for ideas is the Bible. There are lots of themes there that would make great places to start for a new story.
When did you write your first book and how old were you?
I wrote my first book when I was 65. Mia was 11 when we started. 
What do you like to do when you're not writing?
I like to dream up new ideas and ways to tell them. I also like to read and walk.
Mia likes to read and read and read and read … 
No kidding. She's always reading.
What does your family think of your writing?
Mom is a huge fan. Maybe she is prejudiced. But English is not her first language and for her to read a 700-page book is a formidable task. But, she does. And she makes comments. And she tells her friends. Mom sold 30-40 of our first book to colleagues. She's also a great ambassador and salesman for our books. 
What was one of the most surprising things you learned in creating your books?
Writing is hard. Typing is easy. Coming up with ideas is easy. Getting from wherever I am at to the keyboard is the hard part. 
The pleasantly surprising part is that I enjoy the rewrites more than I thought I would. Getting the first draft down is the struggle. Rewriting the book, adding color and character and expanding on ideas, making things clearer, tying things together proved to be much more fun than I thought it would be.
How many books have you written? Which is your favorite?
We have 4 books in our series so far. We like all of our books, but I think we might have favorite scenes in each book. For example, one of my (dad's) favorite is in book two when the lead character, Aimi, makes the ultimate sacrifice. 
In book 4, there is a terrific twist that we hope nobody sees coming. That's a fun scene, too.
Do you have any suggestions to help me become a better writer? If so, what are they?
The best advice is to write. Then write some more. To become a better writer you need to get honest feedback. Not from fans, but from critics. A writer needs to have thick skin, to not take things too personally. It's hard. But, if you can take the feedback, and make the changes that you think should be made, your writing will improve. Not all feedback is write, but all feedback is a learning opportunity.
Write, rewrite, get feedback, rewrite, publish, read reviews, do a second edition. 
Do you hear from your readers much? What kinds of things do they say?
We hear from our readers when they leave reviews or sign up for our newsletter. 
I found this story to be both delightful and imaginative. 
Wholesome read with a fantasy twist.
A very imaginative story for preteens.
Are some of the review titles.
We don't have a perfect 5.0 rating, but we do have 70+ real reviews and a 4.4 average. We can't please everyone but we are glad we can please most.
We will keep trying to improve. 
Do you like to create books for adults?
We prefer to write for kids. Our target is 9-14 year olds. They are honest readers, hard to please. But when you do, you will have a great fan. We think our books are also good for parents and grandparents who like to read along with the young people in their lives. So, I guess you could say we also write for adults. Our first reader, however, are the kids.
What do you think makes a good story?
I think a good story is when the reader thinks, "Gosh, I wish that were me in the story, doing that or being there or becoming like her or him." We want our readers to wish they were in the story, or that the story was about them. If we can accomplish that, we really have something.
Read Also : 
Meet Author Gary Turner – Interview with Gary Turner
Interview with Author LeeAnne Hansen
As a child, what did you want to do when you grew up?
I wanted to become a storyteller. And now I am.