Nausea is an unpleasant illness that can usually be caused by stomach flu, worms, or many reasons. Nausea is commonly seen in women in pregnancy period. This is very annoying disease and causes many people to a loss of interest in food and become physically weak.
You can practice Yoga to get rid of nausea. Because, yoga is really effective to recover from any kind of illness. In this article, we are going to explain 5 Best Easy Yoga Poses to Recover From Nausea problem.
How Indigestion May Lead To Many Health Problems?
Digestion of food begins in the mouth, then continues in the stomach, and then to the intestines. Food is broken down and absorbed by the body. The waste products of digestion are eliminated through the anus, which is called defecation. Good food digestion is essential for a healthy body.
Because indigestion can lead to many health problems such as bloating, stomach pain, acidity, constipation, and loose bowel movements. Your eating and living habits directly affect the digestive process. You can keep your digestive system healthy by changing your lifestyle or eating habits.
The yoga poses we'll discuss in this guide will not only help with your nausea but also help with overall body wellness, including your stomach. This yoga pose is a relaxing full-body pose that helps calm your body, mind, and nervous system "which can contribute to digestive issues.
5 Best Yoga Poses For Nausea That Offer Instant Relief
This yoga helps to keep healthy and mentally very good. These are ours and can be very effective in reducing feelings of nausea. Practicing Pranayama for Nausea or yoga poses has a huge effect on your gastrointestinal health, mainly related to the feeling of nausea. Yoga can also stimulate the central nervous system to interpret sensations and the peripheral nerves that carry the signals needed for interpretation.
Here are some positions to get rid of nausea. Keep reading 
 1. Supta Virasana
This is one of the most effective yoga poses for nausea yoga. When you practice this asana, the weight of the diaphragm is lifted off the liver and stomach. This gives them more space and time to recover.
Your body is relaxed, reducing stress and tension. When you combine the pose with deep breathing, you'll feel more at ease in no time is one of the most effective and easiest yoga poses to cure, Therefore, it simply provides more space and time for recovery. You will feel relaxed because your stress and stomach tension will be relieved significantly.
You feel restless and it affects your day-to-day activities as well. At that point in time, the only thing you have in mind is how to get rid of it as soon as possible. There are Supta virasana which can partially protect you from this problem that gives you immediate relief.
2. Viparita Karani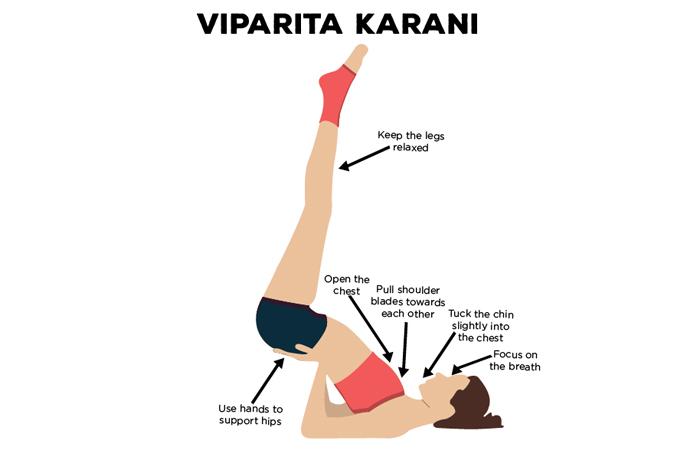 Have you ever tried putting your feet up on the wall? If not, you should start doing this simple yet amazing exercise that can benefit your health in many ways. Viparita Karani or Legs Up the Wall Pose, this yoga pose is considered one of the poses that relax and nourish the mind and body.
The "foot against the wall" pose is also great for swollen ankles and feet. Also, Viparita Karani is an easy yoga pose that doesn't require much strength or flexibility. You can simply switch to this relaxation exercise in your life whenever you feel tired or stressed. Try doing this yoga pose every morning and evening for maximum benefits – just remember to do this pose on an empty stomach.
What are the benefits of Viparita Karani
This is a deep relaxation pose that calms the nervous system, helping to reduce stress and anxiety. It helps to increase circulation and improve drainage in the veins, reducing tension or fatigue in the legs, feet, and even hips. Flipping or flipping legs has long been known as an effective therapy to reduce swelling and pain in the lower extremities.
Again, this yoga can solve our stomach problems and nausea. Thus, this pose can be a great way to reduce ankle and foot swelling (edema) caused by pregnancy, walking, standing, sitting for long periods, and more. So we will say that you can do this meritorious practice of getting solutions for various diseases.
 3. Virasana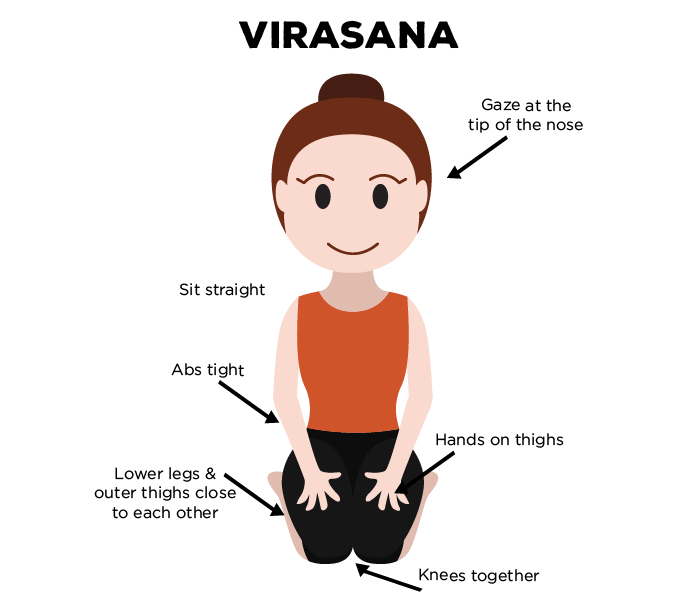 First, we have to prepare in every way to do this yogasana, then we have to find the right sitting depth and what will benefit our individual joints. In the process, we may discover that our ideal virasana looks nothing like the traditional pose.
This yoga can solve many problems in our body and stomach. Elderly people can easily practice this gentle yoga asana. This pose is safe enough for pregnant women to do. Athletes who want to improve their strength and endurance are advised to practice Virasana yoga poses regularly.
People with chronic leg pain and stiffness. People who frequently experience gastrointestinal problems such as bloating and constipation can perform Virasana. People who find it difficult to sit cross-legged when doing yoga. Those who find it difficult to maintain an upright posture can practice Virasana Hero Pose. foot. Women who are facing uncomfortable symptoms of menopause can practice Virasana. 
What are the benefits of Virasana?
This pose helps stretch the ankles, knees, and thighs. This helps relieve pain and stiffness. It improves digestion and helps you reduce bloating and gas. is a great asana to improve circulation in the legs and back. It helps to reduce foot fatigue and general fatigue.
Regular practice of this asana helps athletes improve endurance and athletic performance. is especially for people who have to sit for long hours. This is a great yoga pose to cure high blood pressure. Virasana helps to improve lung function and cure asthma and shortness of breath. This is an important pose to ease the foot.
The goal of this pose is to place your knees on the ground and your head in front of your feet with your torso flat on your feet. It doesn't happen overnight; You will get benefits with every step of this pose. As you lean forward in this pose, lead with your heart until you reach your level of flexibility, then round your back and lower your head. Never force your knees down.
Instead, drop the top of your thighbone toward the floor. When this action takes the lead, the knee will follow. Stay in Baddha konasana for 1-5 minutes or at least 20 breaths, continuously breathing through your nose and through your nose, and gently release into the pose.
What are the benefits of Baddha Konasana? 
This nausea yoga stretches the groin and inner thighs. Increased flexibility in the knees, ankles, feet, and hips.
Pelvic opening. Prenatal exercise is better and reduces menstrual problems. This nausea yoga can also help you to relieve many stomach problems that many great doctors cannot solve.
Especially beneficial for urinary disorders. Reduce tension in the groin area and the space inside the hips and thighs. Beneficial for the lumbar region. Useful in flat feet, and high blood pressure.Very beneficial for infertility and asthma.
5. Pawanmuktasana: Best yoga poses for nausea
A great exercise to keep you fit and regular exercise helps prevent flatulence and help eliminate flatulence. You can also get rid of gas problems slowly with the help of this yoga pose. This asana will help in increasing your digestive power thus giving great results in relieving your indigestion, heartburn, constipation, and nausea.
If you have diabetes or liver disease, it will work as an effective medicine. Also, if you have belly fat, it will start to decrease gradually.
Now let's know the rules of this asana, first lie down and spread your legs forward, remember that your toes should be turned outwards and your hands should be attached to your body. Once stabilized, slowly lift the right leg from the knee and bring the knee up to the chest.
Place your hands two inches below the knees in such a way that your right-hand rests on your left elbow and your left-hand rests on your right elbow. Then slowly apply pressure on your chest. You should stay like this for 30 seconds. Then you do the same technique with the left foot. After doing both steps like this, you will have one. This way you can do 5-8 sets or more.
But remember one thing, while doing this asana, you must lift your right leg first. This is because if the left leg is lifted first, the air accumulated in the colon in the stomach will enter the ascending colon from the descending colon instead of coming out. As a result, there will be no escape from the air.
Read Also : 
Practice These 10 Easy Yoga Poses To Help You Get Into Full Splits
The Bottom Line
The final point is that yoga asana is the best physical practice that you can call the key to wellness. So you should do yoga exercises not only for targeting Nausea but also for your overall physical well-being.